Post-it Note
Iconic Designs, ed. Grace Lees-Maffei, Berg/Bloomsbury, London 
Essay
2014
Desks
Everyday design
Product design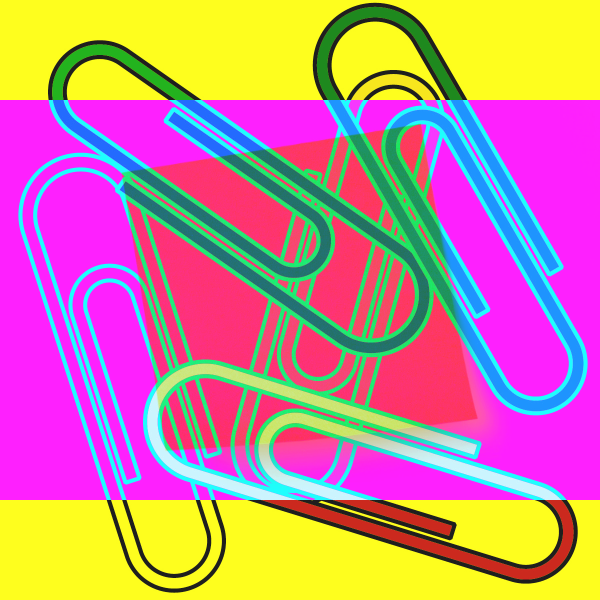 Launched by the US adhesives and abrasives conglomerate 3M in 1980, the Post-it Note would go on to become one of America's top five best-selling office products and to earn a place in the Museum of Modern Art's permanent design collection. As a consumer product, a mode of communication, and as a design icon, the biography of this 3-inch square piece of paper backed with a strip of low-tack adhesive, then, is an archetypal American rags-to-riches story.
Simple and economical in its form, with just the right amount of stickiness to allow it to be repositioned or to stay in place until the user removes it, the square or rectangular piece of paper is neatly collected into sharp edged cubes or bricks. And although, due to its familiarity today, it also seems to represent the beloved modernist design adage of "form follows function," in fact, when it was first introduced there was no function for its form to follow; no desire to fulfil. Just like 3M's other most successful product, transparent tape, no one knew they needed such a thing until they were presented with it and, in the case of the Post-it Note, trained to use it. The launch of the Post-it Note necessitated not just a savvy marketing plan, but also instruction in a new behavior—that of affixing notes to self and others in particular locations, be they documents or desk-spaces, car dashboards or bedroom doors. It didn't take long for consumers to invent their own uses for the little note, however. Carrie Bradshaw's boyfriend used one to dump her in a 2003 episode of the HBO series Sex in the City, and today it is used as a quirky material choice by artists and fashion designers, and as a tool for facilitating the design brainstorming process.1


"A eureka head-flapping moment:" the invention of the Post-it Note
In 1968 Dr Spencer Silver, a Senior Chemist in 3M's corporate research laboratory, was experimenting with adhesives when he produced a substance with low-grade stickiness which he described in its 1972 patent as "inherently tacky elastomeric copolymer microspheres."2 As Greg Beato, in his essay about the history of Post-it Notes explains, "on the molecular level, this substance resembled the pebbled skin of a basketball… the tiny spaces between the microspheres made it impossible to get complete contact between the adhesive and another surface."3
Silver, who has said that he thought of himself as a "molecular architect," was convinced that this failure, this partial adhesive, could be useful, and he frequently promoted its virtues in seminars for his colleagues, but it wasn't until 1974 that its life as a practicable product began. Arthur Fry, who worked in 3M's Tape Division Lab, heard about the invention and started to experiment with its application to small paper bookmarks for marking the pages of his church hymnal. The sticky mini bookmarks worked well but, since they could be reused endlessly, they weren't consumable enough for the company to turn a profit from them. When Fry used one at work to append a question to a report he was reading, however, and his supervisor responded using the same note, it became clear that by writing on the notes Fry and his supervisor had hit upon a means by which they would be used up, and therefore would represent a marketable product. "It was a eureka head-flapping moment," Fry later recalled. "I can still feel the excitement. I had my product: a sticky note."4
Fry generated interest for this new and silent mode of inter-office communication within 3M offices and in 1978 began test-marketing the product by distributing free samples to offices in the town of Boise in Idaho, in what was referred to within the company as the "Boise Blitz." 3M continued to seed the new organizational habit by giving samples to chief executives of Fortune 500 companies, and by 1985, only five years after its official launch in US stores, Time magazine declared the Post-it Note one of the best products of the previous twenty-five years.
The Post-it Note at work and at play
As a mode of communication and an organizational tool the Post-it Note was nicely suited to the era in which it was launched. The office environment of the post-Fordist, service industry 1980s was typically anti-social in its construction with warrens of cubicles and networked computers replacing the typing pool and open plan layouts of the 1960s. The Post-it Note provided a means of inter-cubicle dialogue, and the condensed, urgent prose that its form engendered provided a linguistic parallel to the Power-dressing aesthetic and corporate ideals of the time. Post-it Note messages stuck to the cover of one's Filofax or adorning one's work space were private notes to self, yet often written with a view to their public display. Scrawled notes such as "conference call with global partners at 3pm" or "arrange breakfast meeting with investors," were meant to be seen by others, as signifiers of the author's supposedly busy and exciting career.
In the 1990s, even as online communication became more prevalent, the Post-it Note did not die off, as did other media such as the fax, the Dictaphone and the memo. The Post-it Note continued to thrive alongside the computer, often being stuck to the frame of the monitor. It also found its direct virtual equivalent on computer screens in Microsoft's Sticky Notes program, in Apple's Stickies program, and 3M's own Post-it Brand Software Notes.
At rest upon the blocks from which it is dispensed, empty, pure, and full of possibility—"the color of thought itself, a light bulb going off in your head" the Post-it Note seems modernist but in use, stuck on pages, connecting otherwise disconnected pieces of information in anticipation of the Internet hyperlink—its inherent instability, impermanence, and ability to capture fragmentary thought, recommend it more aptly to the label "Postmodern."5
Through the abbreviated, economical, and sometimes-poetic mode of writing that its small surface area encourages, the Post-it Note can also be seen as a progenitor of instant messaging and the bullet-pointed PowerPoint, and such social media networking services as micro-blogging site Twitter, and online tagging.
The product's market reach and longevity was also helped by its rapid spread beyond the office environment, for which it was intended, and into domestic settings. Stuck to refrigerators the world over it bears curt missives to family members about the location of their dinners, shopping lists, or general reminders of the minutia of household life. It has also found a home in children's craft kits, with a whole series of books devoted to Post-it Note art activities.
Indeed, its playful qualities, and its similarity to a mosaic tile or a digital pixel has been recognized by artists who have used it to create large-scale installations. In late 2011 the public's imagination was captured by the so-called "Post-it Wars," in which a French game design company, Ubisoft, created likenesses of characters from classic video games like Space Invaders, Donkey Kong and Angry Birds by affixing Post-it Notes to their office windows, inciting a nearby branch of the BNP Paribas bank to respond with more complex and ambitious collages of their own. The meme spread across Europe reaching its apotheosis in creations that extended the height of buildings.6
More poignantly the Post-it Note has found a new role in public life when posted on walls or boarded up windows in impromptu notice boards to make appeals for information on missing persons or elegiac reflections in the wake of disasters such as Hurricane Katrina in 2005 and the London Riots of 2011. Post-it Notes with messages of mourning and mosaic portraits also covered the windows of Apple Stores following the death of Apple CEO Steve Jobs in the fall of 2011.
The Post-it Note as design icon and design tool
Its recognition as a design icon, for example via its inclusion in an exhibition titled "Humble Masterpieces" at MoMA in 2004, came during a time in which the design establishment was newly attuned to the significance of quotidian design.7 Also celebrated in the exhibition, and in much design discourse of the period, were other exemplars of humdrum office equipment such as the GEM paperclip, the Bic biro, and the Swingline stapler, all of which had achieved a new-found everyday hero status inspired, at least in part, by nostalgia for the quaint-seeming physical apparatus of bureaucracy in an era of the much-heralded "paperless office."8 As Paola Antonelli, curator of the "Humble Masterpieces" exhibition, has explained, her decision to collect and display everyday objects was less a rupture in MoMA's approach to collecting and displaying design, and more of a continuation of its founding mission to celebrate examples of everyday design.9
Yet in the early 2000s, amid a period characterized by the Millennial Baroque excesses and complex forms of computer-generated design, everyday design's re-emergence into the design press and its institutions was striking nevertheless, and was often used by its advocates as a pointed, if gentle, political statement in the face of a star-obsessed media and the elitist connoisseurial collecting and exhibiting practices of decorative arts and design museums.
As well as being a design icon in its own right, the Post-it Note can also be seen as contributing to the creation of other design icons. Some designers use it as a tool in the brainstorming or idea-generation stage of a project. Typically participants in a collaborative project will write or draw their ideas or questions on Post-it Notes to be stuck to a wall. These can then be re-arranged, sorted and grouped by color of the note or its content as a way to externalize and materialize the intuitive and non-verbal thought-processes of design. With the increasing popularity in the last decade of Design Thinking, a problem-solving protocol derived from design practice but applicable to business and which, according to US product design and innovation firm IDEO, "allows people who aren't trained as designers to use creative tools to address a vast range of challenges," the Post-it Note has assumed a new role as the most tangible and photogenic aspect of the design process.10 As Jamer Hunt observed, "The predominant image of design in the 21st century is that cliché of the empty conference room or studio—just after some feverish brainstorming extravaganza—plastered with Post-it Notes … as if the act of design had suddenly morphed into some strange game of pin the Post-it on the mind map."11
Today the Post-it is available in 27 sizes, 56 standard shapes, 57 colors, 22 different dispensers and even 20 different fragrances including dill pickle, pizza, and bubble gum. In 2012, in an effort to tap into the personalized lifestyle product market, 3M introduced eight new fashion-conscious hues such as "Farmer's Market," "Tropic Breeze," "Jewel Pop," "Electric Glow" and "Sunwashed Pier." A design icon, design facilitator, art material, method of creative expression, and means of public discourse—while the Post-It note has clearly transcended its original office cubicle habitat, its small, blocky, sticky materiality endures.
1 Aired on August 3, 2003. Carrie shows the break-up Post-it Note that reads, "I'm sorry. I can't. Don't hate me," to her friends, one of which observes, "The Mother-Fucker's concise." 2 United States Patent, 3,691,140, Sept. 12, 1972, column 1, line 34-35 3 Greg Beato, "Twenty-Five Years of Post-it Notes," The Rake, March 24, 2005 4 Art Fry and Spencer Silver, "First Person: 'We invented the Post-it Note,'" Financial Times, December 3, 2010 5 Greg Beato, "Twenty-Five Years of Post-it Notes," The Rake, March 24, 2005 6 This material reenactment of the Post-it Note's escape from the office was given an ironic twist by a gallery installation in Vancouver in 2011 in which the artist Immony Men employed assistants working for 15 days, 9-5, deploying 10,000 Post-its to create a floor-to-ceiling depiction of a typical office cubicle, including file folders, a printer and a wall clock. 7 "Humble Masterpieces," April 8–September 27, 2004, The Museum of Modern Art, New York. 8 "Humble Masterpieces" exhibition checklist accessed from MoMA's website. 9 Paola Antonelli, Introductory text to "Humble Masterpieces," accessed from MoMA's website. 10 Ideo website, (https://designthinking.ideo.com/?page_id=1542). 11Jamer Hunt, "Why Designers Should Declare Death to the Post-It," May 20, 2005, FastCompany.com, (http://www.fastcompany.com/1650243/why-designers-should-declare-death-to-the-post-it).