Museum With Walls
A review of the new OMA/AMO-designed installation of the permanent collection at the Stedelijk Museum in Amsterdam
Disegno #18
Review
2018
Design collections
Design curation
Exhibition design
Federico Martelli
Margriet Schavemaker
Paola Antonelli
Rem Koolhaas
Stedelijk Museum
Willem Sandberg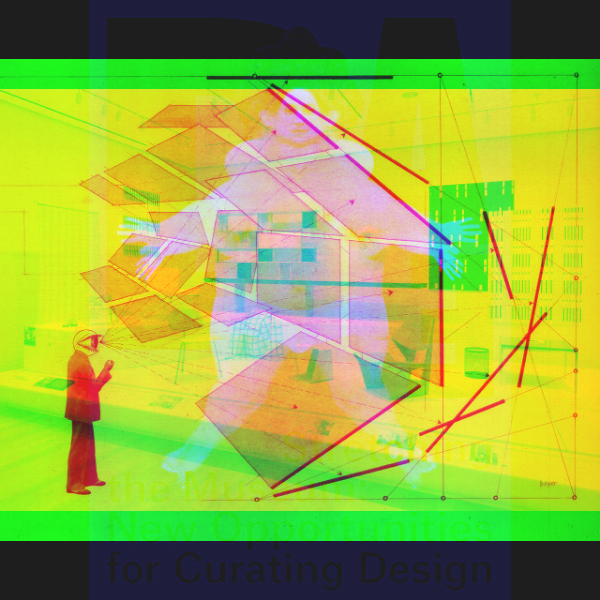 In December 2017, the Stedelijk Museum in Amsterdam opened Base, a new installation designed by Rem Koolhaas and Federico Martelli of AMO (the research-focused division of architectural practice OMA). It features 700 modern and contemporary art and design works from its permanent collection and is the result of two years of close collaboration with Margriet Schavemaker, the Stedelijk's head of collections and research, and a team of about a dozen curators.
The overhaul stems from a perceived need, shared by most 21st-century art museums, to connect to more diverse audiences who have greater access to art through online media, and, consequently, increased expectations about what a museum can offer in its physical and digital spaces. Many institutions are responding to this challenge on all available fronts. They are digitising their collections and providing novel ways to engage with them (ranging from digital pens at the Cooper Hewitt, to personalised online image sets at the Met); inviting artists and designers to curate capsule collections, run workshops, or even work in in-house studios; encouraging visitor participation through crowd-sourced contributions; investing in public programming such as late-openings, debates, talks and DJ nights; expanding their research, education and publishing remits; and adding layers of audio-visual commentary, to name just a few.
The Stedelijk, which translates as "municipal" or "civic," receives most of its financial resources from the municipality of Amsterdam, but in order to realise its programming ambitions, it depends increasingly on self-generated income arriving in the form of donations, commercial sponsorships, applications to European arts funds and ticket sales. When Beatrix Ruf became director in 2014, she reinvigorated the museum's attempts to attract more visitors and potential partners with her vision for an interdisciplinary presentation of its collection, in which modern and contemporary art, photography, applied arts and design objects would all be presented together in one interrelated narrative. "We're sure visitors will gain much more from this approach," she said in 2016. "[They will get] deeper insights into when a work was made, and a greater understanding of art and design. We want to show that art is a direct translation of the times we're living in, or times past."
Now, this vision has been realised in AMO's striking installation housed on both floors of the Stedelijk's 2012 Benthem Crouwel-designed extension (popularly known as the "bathtub") where pieces from 1880 to the present are fully integrated. The exhibition design allows visitors to track a chronological path around the perimeter wall, but also to explore works according to themes in a more free-form way. These groupings are clustered on thin, free‑standing walls distributed across the floor space – a plan that is best appreciated from the viewing deck atop the replica of Gerrit Rietveld and Truus Schröder-Schräder's 1926 Harrenstein Bedroom. The museum describes the installation as "an open-ended parcours," and Koolhaas considers wandering among the walls akin to the experience of navigating a city, with streets, squares, alleys and the possibility of unexpected encounters.
The walls certainly create a spatially layered effect, at best similar to being inside a cubist or suprematist painting of geometric planes. But also, and somewhat dispiritingly, they replicate screens and the much more banal experience of navigating the flow of images in one's social-media feeds. Martelli notes that the non-linear narrative and the layered effect respond to how we absorb information today. "The exhibition […] allows the visitor to create shortcuts and to move between the walls freely, allowing objects and artworks to call our attention from afar and permitting curiosity to guide our visit," he says. While we are indeed capable of absorbing multiple sources of information, often simultaneously, visitors frequently come to museums to seek refuge from such overload, to enter a framed space for focused contemplation – for epiphany even. In seeking to "make the collection relevant today, in the 21st century," and in creating "a presentation […] crammed with surprising connections and associations," as Schavemaker has commented, the Stedelijk risks alienating some of its community.
The Dutch newspaper Het Parool called the rehang "an Instagram presentation for millennials."
An NRC reporter interviewed visitors on the opening day. While some delighted in the layout's associative potential – "It is rather like you never finished looking," said Sheryl Lee, 21, from Singapore – others, like Majorie de Man, 38, from Utrecht, dismissed it as "a candy store." The Dutch newspaper Het Parool called the rehang "an Instagram presentation for millennials." Aaron Betsky, president of the School of Architecture at Taliesin and former director of the Netherlands Architecture Institute, stated it more bluntly in his review for Architect magazine: "What you get in the basement level is pure chaos. The curators and installers have jammed so many objects together that you can't properly see those Malevichs through the Mondrians and vice versa." Schavemaker acknowledges that there are always going to be those who miss having "a Barnett Newman [colour field painting] in one space", but believes in the importance of exploring curatorial models beyond the formalist, modernist construction of the "white cube" (art critic Brian O'Doherty's label for a gallery space characterised by its white, windowless walls and sparse hanging aesthetic, in which the artworks accrue almost religious qualities and appear "untouched by time and its vicissitudes.") "I don't know why we did that to ourselves, internationally," says Schavemaker. "If you look at shows of the 1950s, 60s and 70s, things were so much more diverse than this purification of the museum gallery that has been so widely adopted."
Betsky, among others, also argues that the new display prevents the installation of monumental contemporary art for which the Benthem Crouwel extension, with its vast, column-free footprint was intended. The original Stedelijk building, designed by A.W. Weissman in 1895, and since renovated by Benthem Crouwel, is arguably better suited to the quiet viewing of smaller pieces, given its sky-lit, room-based configuration; but today it is the location for Stedelijk Now, the museum's rotating exhibitions of contemporary art, which, since many feature large-scale works, can feel cramped.
Martelli recalls that meetings were like "psychotherapy sessions"…
In October 2017, before this controversial reorientation of the museum—which ultimately went €2m over budget—was completed, the director Beatrix Ruf resigned in response to allegations made by an NRC report that she had not disclosed profits accrued through her private art-consulting business, Currentmatters, nor been transparent about the way she had benefitted from a gift of 600 works to the Stedelijk by the collector Thomas Borgmann. Her departure put additional pressure on the architectural team which, of necessity, became the axis for the many different interests of—and inputs by—curators and other stakeholders. Martelli recalls that meetings were more like "psychotherapy sessions," as the many participants tried to agree on what were the most important stories and which highlights from the 90,000-strong holdings should be selected for display.
The Stedelijk owns the largest collection of works by Kazimir Malevich outside Russia, significant arrays of De Stijl and Cobra works, and notable pieces by designers such as Wim Crouwel, Willem Sandberg (a former Stedelijk director) and Gerrit Rietveld, as well as artists such as Rineke Dijkstra, Marlene Dumas, Mike Kelley, Willem de Kooning and Piet Mondrian. The museum curators wanted to show as many of their highlights as possible and AMO's wall system provided the means to do so. In practical terms, it expanded the surface area for hanging—an intersection of two walls creates eight planes, for example. Using a scale maquette of the exhibition space and postage-stamp-sized versions of the artworks, the curators arranged and rearranged the collection in groupings, finally managing to find space for 700.
Koolhaas was drawn to the project because of his long-lasting connection to the Amsterdam museum. In an introductory video at the entrance of the exhibit, the Dutch architect explains how, between the age of 12 and 18, he would visit regularly, going as far as to say that his "entire aesthetic sensibility" was determined by the Stedelijk, which became his university of sorts. For Martelli, who has collaborated with AMO since 2012, and previously worked with the artist Wolfgang Tillmans on several exhibitions (including his 2017 solo show at Tate Modern,) what appealed most was the 1,100sqm of open space—a well-proportioned blank canvas for experimentation.
The Stedelijk has a rich history of novel exhibition displays, including its 1962 Dylaby show, which presented artworks on the floor and ceiling to create a disorientating effect (the show's name was a portmanteau for "dynamic labyrinth.") Koolhaas and Martelli began by exploring the different strategies that the museum used over the years and became particularly interested in the temporary walls used to hang posters and artworks. They conducted a visual analysis of the exhibiting structures and identified the use of partitions, stands, and suspended and floating walls. They were particularly struck by one—a modular wall system supported by black-steel legs—which had been used extensively between 1955 and 1979. "We named this self-standing structure the 'Stedelijk wall,'" says Martelli. "We found it fascinating how light and how unstable these walls were. They would clearly not conform to today's safety and insurance requirements."
What tends to get used (and over-used, in Martelli's view) in museums today is plasterboard walls, which are inexpensive, versatile, fire-resistant and easy to install. AMO was keen to avoid this direction: "It is very common that behind the thin layer of plasterboard there is a large void of empty or technical space. A wall that traditionally signifies solidity is in fact very transient, so we wanted to explore the relation between the thinness of the walls and solidity and temporality," says Martelli. The design team focused instead on how to create free-standing walls that would be thin enough to preserve the feeling of open space in the huge room, and strong enough to support the artworks and withstand vibrations. Their chosen material was steel—180 tonnes of it— which TATA partner companies Service Centrum Maastricht/Feijen and Laura Metaal processed and laser cut into plates that boast narrow tolerances while being only 15mm thick. These were sandblasted using a new technique developed by TATA that lends the steel a velvety finish.
The walls create a spatially layered effect, similar to being inside a cubist or suprematist painting.
Arup provided structural engineering expertise by simulating potential stresses and impact vibrations using parametric models which determined precisely where each free-standing wall needed stiffener plates. The 43 walls were then assembled into triangular structures using interlocking elements in the floor plates. These perform as a series of islands upon which related works could be clustered. "We were looking at alternatives to the use of surfaces in museums, looking at expanded possibilities for transparencies, angles and irregular configurations that would take the museum experience away from a room-by-room and white cube condition," says Martelli.
While the Base display system appears to be flexible and adaptive, the thin steel planes are more expensive and permanent than the plaster walls the architects sought to avoid. The plan is to continually refresh the content—certain delicate fabric and paper-based works can only be exposed to light for short periods, for instance, and others will need to be replaced when they are loaned out—but there will only be a full rehang in 2022 and, even then, the AMO walls will remain in place.
Eschewing rooms and white cubes allows for cross connections to emerge between the collections of art, photography, design and decorative arts, which were previously displayed in separate areas of the museum. Despite the reservations of Betsky and other critics, it is a premise that works well in some instances. There are genuinely revelatory moments, such as when Dieter Rams and Hans Gugelot's iconic 1956 Braun Phonosuper (model SK 4)—a sleek radio-record player combination that was dubbed "Snow White's Coffin" for its white-metal casing and transparent lid—exchanges visual, formal and connotative resonances with the artworks hung to its left and right. Sedje Hémon's 1961 black and white music-referencing linocut, Pas de Quatre, triggers visual-sonic dissonance in the viewer's mind and goes a little way toward reactivating the mute record player. And the reclining white nude in Pablo Picasso's 1956 Femme nue devant le jardin can be seen for a moment as a painterly version of Snow White—as lifeless as a corpse and just as objectified as the white-box appliance.
The suggested correspondences between late 19th-century posters and paintings are less surprising, given that artists often worked interchangeably between media in that period, but in some cases the juxtapositions are nevertheless informative: the pairing of a Jan Toorop poster for Delft Salad Oil and Anna Boch's 1892 painting, Woman in Landscape, conjures pleasingly poetic reverberations. The central female figure in each composition becomes one with its background. In the former, this happens by means of the sweeping art nouveau lines that form the woman's hair and flow out beyond her into the background of the composition, dripping viscously like the oil the poster was created to advertise; meanwhile, in the Boch painting, the pointillist method allows the edges of the figure to dissolve into the shadows of the trees before which it stands.
The Mondrian-Rietveld cross currents are well rehearsed and have been demonstrated by the Stedelijk before, although here they are nicely complicated by the addition of The Fish Port of Harderwijk (c. 1908-10), a painting by the Amsterdam Impressionist Suze Robertson, in which one can discern a progenitor of De Stijl themes in its triangle of blue sea, square of yellow beach and red blouse worn by the tiny figure in the foreground.
Other pairings, however, seem forced. American graphic designer Milton Glaser's iconic Dylan poster and a Verner Panton fabric design have little in common besides their colour schemes. Dutch designer Maarten Baas says he is "very honoured" to have his wobbly clay chairs hung next to some Philip Guston paintings, but such aesthetic associations reduce design objects to images. The layered composition gives the viewer the nagging sensation that one is exploring someone's Pinterest board.
There are moments when designed objects are allowed to sit among their intended housemates and have a more natural dialogue: the pieces of 1930s Scandinavian furniture exchange the same tasteful pleasantries they do in any museum the world over, but the display of Bauhaus design is given a new shot of piquancy by the inclusion of Kitty van der Mijll Dekker's beautiful 1934 Relief rug, its knots and weaves subtly reinforced by two shades of white wool, and her elegantly geometric Dobby-woven linen tea towel from 1939. The history of Bauhaus women designers is notoriously under-told in museums, and so it is refreshing to see these excellent examples of technically innovative weaving included here. Best of all of the design groupings is the Pop-era display case, which is truly original in its selections: a Patrice Dupont record player, a Warhol pop-up book, a weird Lipofsky glass object, a gorgeous dayglow Swip Stolk shoe box and a Superstudio table lamp. Now that's an interesting party.
The Stedelijk is by no means the first art museum to attempt to bring a party inside its white walls, to reactivate its collection, and to try and attract the attention of an expanded public through reorganisation. When Tate Modern in London moved to its new building in 2000, it opted for a thematic rather than a chronological installation of its permanent collection and many others have followed suit. Around 2005, the Centre Pompidou in Paris began to update the installation of its permanent collection as a series of temporary exhibitions, with the interpretative curatorial perspective made evident in each case. With Elles@ centrepompidou (2009-11) and more recently with Modernités plurielles (2013-2015), the museum engaged in a rewriting of the history of 20th-century modernism from a feminist perspective and as a global phenomenon, respectively. Most recently, in Eindhoven, the Van Abbemuseum's The Making of Modern Art presents a truly innovative reinterpretation of its collection of modern masterpieces intended to reveal the logic, motivations and politics of the formation of the classical canon of modern art, including its darker, colonial residues. Schavemaker says that she and the Stedelijk curators pay close attention to these institutions, and especially the Van Abbemuseum, but since they have to cater to an audience six times larger than that of the Eindhoven institution, the question of how to present iconic works while interrogating their canonical status is more challenging.
What appealed most was the 1,100sqm of open space—a blank canvas for experimentation.
While the Stedelijk Base exhibit makes only a small nod to the growing imperative for the critique and the decolonisation of collections (exemplified by critical projects within the Netherlands such as The Black Archives and Decolonize the Museum), in the 'Turns' sections these themes are addressed more directly. A current show titled I Am a Native Foreigner, for example, revisits the museum's collection through the lens of migration, and the Stedelijk aims to integrate such viewpoints into future iterations of the Base exhibit. We also find some self-reflection in the display of a timeline of the museum's history on the stairs to the entrance area of Base. Here, one can see photographs of exhibitions such as Cobra (1949), Bewogen Beweging (1961), Dylaby (1962), Perspectief in Textile (1969), Op Losse Schroeven: Situaties en Cryptostructuren (1969), and Horn of Plenty (1989), each of which left traces in the collection as a whole. It is a shame that this structure was not exploited further as a space for a more self-critical analysis of the way in which the Stedelijk collection has been built over time.
It was Willem Sandberg who, during his directorship between 1945 and 1963, put the Stedelijk on the map as an institution as attentive to design as it was to modern art. He created 380 posters and more than 250 catalogues for the museum, and helped to build a world-class collection. Wim Crouwel, who designed all the graphic work for the Stedelijk Museum from 1963 to 1985, continued Sandberg's mission. But while the Stedelijk tells us that in this reorganised display almost 40 per cent of the works are design, and that "all media are considered equally important," this impulse is difficult to discern in the final outcome. And even though design, which the museum began to collect in the 1920s, comprises two thirds of its holdings—and a renovation of its very dull design-capsule gallery was sorely needed—the resulting remix does the field a disservice by shoehorning it into a traditional art-historical narrative and artist-led groupings, and by flattening its dimensionality into a series of imagistic collages. As the designer and curator Delany Boutkan has noted, many of the chairs in the exhibition are grouped together by maker or visual style, presented from the side on individual shelves attached to the wall. This means you have to distance yourself from the display to take it in, and, in combination with the fact that the objects are made to conform to a grid against a white background, makes the viewing experience "resemble scrolling through Google Images."
Schavemaker sees such an association in a more positive light, and as a way to avoid a linear narrative, however. "When you Google something you see other things around it related to it," she says, adding that Ruf's approach to curation was always about "bringing in a lot of things and piling them up." She also believes that grouping chairs together makes them "less object-like and more discursive" and that when brought together like this, "they start to contextualise one another." There is also the very practical factor of security to consider: attaching chairs high up on walls elevates them beyond the reach of visitors and avoids the need for more vitrines, which Schavemaker finds limiting. "What is interesting in this project," says Martelli, "is the inevitable relation between art and design and how they influenced each other at different moments and periods." Yet he also admits that, "the risk of mixing design and art is that you start thinking of design as art, when in fact there are very important differences."
Paola Antonelli, senior curator of architecture and design and director of research and development at MoMA in New York, says that while she thinks curating design in the context of an art museum is advantageous because it brings in more visitors – who may come for the Picassos but stay for the design – mixing the disciplines in one presentation is "a much more complicated territory that can become quicksand." In 2000, she and Laura Hoptman curated a show titled Matter in which they examined the work of both designers and artists through the lens of materials. One room, for example, used felt as a common denominator between the work of artists like Joseph Beuys and designers like Gaetano Pesce. "The outcome was an exhibition that was aesthetically beautiful, but conceptually wrong, wrong, wrong," says Antonelli. "Design was immediately sucked into the paradigms of art and perceived as lesser."
How do you bring fresh insights to an Eames chair that may also be available in the museum shop?
To Martelli, design is the result of "intellect being applied to solve very specific problems." Apart from being functional, however, design is also part of a network of interconnected ideas, issues and behaviours, and deeply enmeshed in multiple economic, political and social contexts. When design enters a museum, it is stripped of these attributes, and the challenge of how to present it compellingly is a pressing one. How do you convey the complexity and implications of a discipline, way of thinking and cultural force with a definition that is mutating and expanding so rapidly? Today, design can be dematerialised, infrastructural, networked or conceptual, so how can its full nature be conveyed in an institution that is entrusted with its conservation and protection, and in a display format that privileges its storable, domestic and object-based manifestations? How do you create difference between the numerous museum collections that have been assembled based on the same principles of modernist design? (The origins of this template can be found in Philip Johnson's infamous Machine Art exhibition of 1934 at MoMA in New York, which presented industrial objects such as ball bearings, propellers, test-tubes and springs on plinths as if they were sculptures, drawing attention to their static, Platonic forms rather than attending to the details of their use.) And, as the public becomes increasingly sophisticated in its appreciation of design, partly as a result of MoMA's initiatives since the 1950s to promote the virtues of "good design," how do you bring fresh insights to bear on an Eames chair, for example, that may also be available in a Design Within Reach or Conran store or—even closer to home—in the museum shop?
AMO is sensitive to these issues. In recent years, it has organised several exhibitions that attempt to engage with design's multiple contexts. These include the Prada Tokyo Epicenter's Waist Down show in 2004, where 100 skirts were displayed in motion, and Panda at the 2016 Oslo Architecture Triennale, which investigated the accelerating influence of digital-sharing platforms, their social and political implications, and pervasive impact on the built environment. At the Stedelijk, however, AMO focused less on the challenge of how to present the complexity of design, and more on finding ways to integrate art and design, and reveal the relations and influences between them. "Curatorially, the intention was not so much to provide a didactic story or an interactive experience with the design object," says Martelli, "but on how to relate the different collections of the museum in a single exhibition."
Even though the white cube has been abandoned at the Stedelijk, the institution still capitalises upon the ability O'Doherty noted back in 1975 of a wall to subtly confer its content to art. In the Base installation, art is mainly shown on the white side, while design objects are largely exhibited at moments where the uncovered steel can be used as background, and the "more technical aspect of the self-standing walls" exposed. Martelli believes that visual cues are needed to help encourage the change in mentality demanded of the viewer when switching from regarding artworks to design products. Historical furniture pieces, such as Michel de Klerk's 1917 mahogany dressoir, a classic example of Amsterdam School furniture design, certainly seem to gain additional lustre against AMO's sleek backdrop.
When it comes to more contemporary examples, however, the installation falls short, and indeed, the Stedelijk's rich legacy of collecting and presenting design in experimental ways seems to be in danger of stagnation. The museum pays little heed to recent developments in practice, and the increasingly elastic definition of design that now embraces interactive, service, social and speculative forms, among many others. Instead, it continues to collect designers' oeuvres as if they were artists, prioritising small, domestically focused objects that can comfortably be displayed on plinths and in vitrines. Recent acquisitions include posters by Atelier ter Bekke & Behage, textile works by Sheila Hicks, and graphic systems by Mark Fox and Angie Wang. Lovely as these all are, they do little to signal that the museum wishes to engage in current discourse about design, let alone to chart its future trajectories. By contrast, MoMA's bold decision starting in 2010 to collect the @ symbol, the Google Maps Pin, the International Electrotechnical Commission's power symbol, the International Symbol for Recycling, and the Creative Commons symbol has demonstrated that in a digital age, the physical possession of an object as a requirement for an acquisition may no longer be necessary; MoMA can be an "anointer" of what it perceives to be modern design in the wild. Antonelli, who was responsible for this initiative, believes that her role as a curator is to provide the public with its own critical toolset and that this responsibility extends beyond the museum walls. "I believe that the value of museum curating is to have a very strong viewpoint that the public can agree or disagree with," she says. Positions are easier to express through temporary exhibitions, but even with the collection—which, according to Antonelli, is the distillation of the museum's mission and mandate but also its "unique personality and character"—it's "important to take a viewpoint and develop it, to be useful to the public."
"I believe that the value of museum curating is to have a very strong viewpoint."—Paola Antonelli
At Hong Kong's new M+ museum, curator Aric Chen's intention to build a collection of design uniquely framed through a contemporary Asian filter provides a tangible and provocative position from which to stimulate debate. Other museums are attempting to reckon with the role of design in shaping, and being shaped by, contemporary political and social issues such as protest and climate change. The mandate of the "Rapid Response Collecting" project, initiated in 2013 at the V&A in London, for example, is to amass and display designed objects recently featuring in current affairs. These include objects that the V&A believe will raise "different questions about globalisation, popular culture, political and social change, demographics, technology, regulation or the law," and include the Liberator, a gun designed to be assembled from 3D-printed components, and the pink knitted pussy hat that became symbolic of anti-Trump Women's Marches. Similarly, at the Museum Boijmans Van Beuningen in Rotterdam, a series of topic-based "Design Column" exhibits have put the spotlight on design's role in issues such as healthcare, the refugee crisis or waste. Such moves remind us that the discipline is often politically charged and invite visitors to rethink their relationship to the everyday objects with which they interact.
Meanwhile, at the Stedelijk, earlier this year it was announced that an anticipated exhibition of Ettore Sottsass's design work would be cancelled, and, apart from plans to continue hosting the Best Dutch Book Designs awards and to organise a show by the design and research practice Metahaven, from the outside there is little indication that the museum wants to take a defined position in relation to design by staging issue- or theme-based exhibitions, nor in setting the direction of discourse by a more provocative collections policy. Its holdings are currently organised by media – industrial design, graphic design, and applied arts, and overseen by three specialist curators. Within the museum, however, it does seem as though change is being considered. Schavemaker says she believes the museum "should focus far more on topical themes," pay more attention to process and collect more examples of social design. She also says that the museum is rethinking how best to approach the curation of design: "We need critical thinkers that look beyond the confines of medium."
Due to its funding model, the Stedelijk is attentive to the fact that, as it states in a 2016 annual report, "the collection is owned by the Dutch people." The Dutch museum‑visiting public is unusually dedicated to, and well-informed about design – a subject matter that tends to be part of everyday conversation within the Netherlands (the 2017 iteration of Dutch Design Week attracted more than 275,000 paying visitors, for example). While the Base installation makes a big step toward overcoming the prevailing white-cube model of curation, and certainly provides visitors with a dynamic and immersive engagement with art, in terms of its attention to the complexities of design, it falls short. From Schavemaker's account of things, the museum's internal conversations surrounding design are well intentioned and attuned to contemporary issues, and the next collection remix, scheduled for 2022, will prioritise design under the guidance of curator Ingeborg de Roode. At this juncture, however, and in assessing what we are presented with, the museum has missed an important opportunity to lead, or even to take a position in relation to, debate surrounding how to collect modern and contemporary design, and how to interpret and present it.