"A Throw-Away Esthetic": New Measures and Metaphors in Product Design Criticism, 1955–1961, Part 1
A Clash of Values in Design Magazine, Britain, 1960
Sifting the Trash: A History of Design Criticism, Alice Twemlow, MIT Press
Book chapter
2017
1950s
1960s
Deborah Allen
Design criticism
Design history
Design Magazine
History of design criticism
Richard Hamilton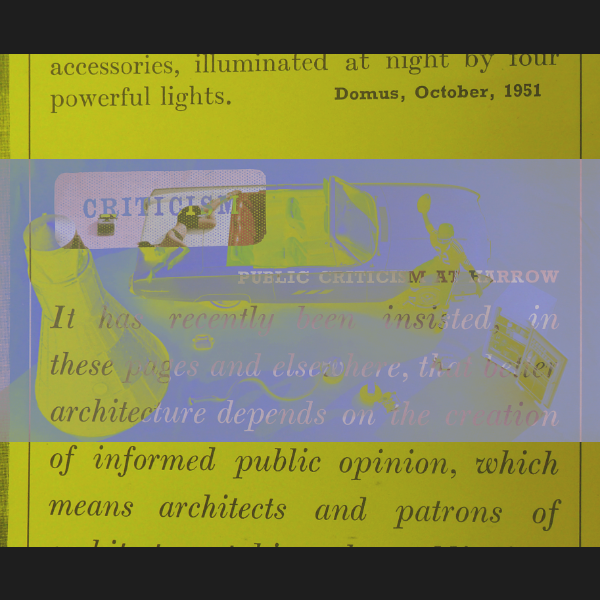 One evening in early 1955, somewhere on US Route 1, while riding shotgun in a Buick Century, Deborah Allen had an epiphany. The auto critic and coeditor of Industrial Design magazine had been visiting a friend in Westport; as he drove her back to New York along the coastal road, and the setting sun reddened the Buick's chrome detailing, Allen suddenly saw how her friend "lived in his car and how he enjoyed it." As a public transport user and a skeptic of the exaggeratedly low-slung and streamlined cars of the period, she remembered being "amazed that there could be some sense in this car. It was a revelation."1 Back in the magazine's Midtown office, Allen quickly typed up a report on her Olivetti Lettera 22. All the exhilarating impulsion of her recent ride is captured in a review that, unlike many of her others, seems to epitomize the era's most optimistic view of cars and what they promised in terms of mobility, modernity, and social progress. The Buick, she told her readers, "was not designed to sit on the ground or even roll on the ground; it is perpetually floating on currents that are conveniently built into the design." Allen's analysis of the way in which the car's styling reinforces its dynamics combines technical specificity with such an expressive and lyrical use of language that it verges on poetry: "The Buick's designers put the greatest weight over the wheels, where the engine is, which is natural enough. The heavy bumper helps to pull the weight forward; the dip in the body and the chrome spear express how the thrust of the front wheels is dissipated in turbulence toward the rear. Just behind the strong shoulder of the car, a sturdy post lifts up the roof, which trails off like a banner in the air. The driver sits in the dead calm at the center of all this motion; hers is a lush situation."2
To understand the nature of a new kind of design criticism that emerged in the late 1950s and early 1960s in the US and the UK, it is revealing to look closely at the language and references being wielded by three writers in particular, in their attempts to reckon with the new types of mass-produced and often disposable products and appliances that began to populate the British and American marketplaces. These writers are Deborah Allen and her coeditor of Industrial Design magazine Jane Thompson, whom we shall meet later, and in the UK the design and architecture critic Reyner Banham and the artist and writer Richard Hamilton.
A few years after Allen's encounter with the Buick, we find Hamilton, in the library of the US Embassy on Grosvenor Square in London, leafing through back issues of Industrial Design and poring over its analyses of white goods and cars. Allen's phrase "hers is a lush situation" leapt from the page and became, for Hamilton, the launch point and title for a series of studies and a painting that explored the relationship between the car and the feminine form.
In 1963 he wrote an article for Living Arts as an accompaniment, or reference guide, to some of his art works, including "Hers is a Lush Situation" and an elaborate self-portrait he constructed for the publication's cover. His piece of writing is an ecstatic, media-fueled, and hallucinatory immersion into the imagery, accouterments, and language of the American dream. The rich accumulation of proprietary names and advertising jargon required its own lengthy glossary, in which the brands, acronyms, technical terms, oblique references, and celebrity names were decoded. These include: Virgil Exner, chief body stylist for the Chrysler Corporation from 1953 until 1961; playboy and film producer Howard Hughes; the bug-eyed monster of science fiction; Voluptua, the overtly sexual host to KABC's late-night romance movies; and technical terms and processes such as major and minor appliances, retouching, depth of field, the f2 camera stop, scanned and screened images, and dubbing.
In the text Hamilton conjures a wonder-struck aerial vision of cars driving through Manhattan and a female driver, floating, just as Allen had depicted, on waves of steel: "In slots between towering glass slabs writhes a sea of jostling metal, fabulously wrought like rocket and space probe, like lipstick sliding out of a lacquered brass sleeve, like waffle, like Jello. Passing UNO, NYC, NY, USA (point a), Sophia floats urbanely on waves of triple-dipped, infra-red-baked pressed steel."3
But only beats after such a sympathetic establishing shot, Hamilton taints his own imagery with the sense of an ominous and darker underside to mass production: "a prolonged breathy fart" exudes from the cars; a "comically dribbled sigh of ecstasy" is induced by manipulation of an appliance's power glide lever, likened to the Isher weapon; and the sky behind Mr Universe and Miss World is "smeared with puce and violet," for example.
Hamilton considered that in "Urbane Image" he was successful in wielding words like dabs of paint or elements of collage in order to "gauge the temperament" of the world of American-derived appliances and branded products that he found so compelling.4 He reflected that article used "collage, paraphrase, style change, irony tempered with affection—a sophisticated, if superficial, erudition" to mask "a goggle-eyed wonder at the world."5 As such, he recognized that this piece had the "ambition and character" of lyrical, even literary, prose.6
A third self-portrait, of a third writer under consideration in this chapter, the architecture and design critic Reyner Banham, was written on the back of a Qantas Empire Airways postcard and published in Motif magazine in 1963. It also sought to understand the temperament of something—the Pop movement as a whole, anthropomorphized here as a jet-setting tourist. It read:
Dear Vidiots
Boeing along to Honolulu
—can see the islands
like Bonestells in the sea.
Now to make that Waikiki
scene, loot goodies for
home consumers. Bully for
former IG man, hey?
Love from Pop7
In the article, titled "Who Is This Pop?," which follows this oblique epistle, Banham personalized Pop as both a sensibility and a kind of father figure, and in doing so positioned himself as the phenomenon's paternal representative and translator of its unfamiliar vocabulary. The seven component qualities of Pop which Banham identified embrace people, products and behaviors which "spring from the sudden collision of a keen far-out taste and the technical means to satisfy it."8 The piece contributed a new understanding of the consumers of popular products, not as passive dupes of commerce, as other cultural critics of the period might have considered them, but rather as sophisticated and willing participants in what Banham termed, "the extraordinary adventure of mass production."9
In the post-Second World War period the dominant strain of design proselytizing, typified by the activities of the Council of Industrial Design in the UK, and the Museum of Modern Art in the US, evaluated design using abstract and morally value-laden criteria such as durability, honesty, sobriety, and modesty, and was elitist in intention and omniscient in voice. Against this backdrop, writers like Allen, Hamilton, and Banham wanted to highlight the ways people actually used design, and allow for a wider spectrum of consumer needs and tastes; and even hoped to empower readers to conduct their own product design criticism—to "carry the discipline down from Olympus into the market-place," as Banham would later put it.10 These writers used a direct, first person mode of address, and included personal anecdotes and experiences. Through the use of such literary devices as neologisms, compression, rhythmic play, and rich imagery, a new genre of writing gained definition, transcending its journalistic setting, and aspiring to a hybrid form of poetic prose.
Introduction: The witch hunt for design's "sensational aspects"
British design commentary in the mid-twentieth century was, for the most part, promotional and didactic—a form of economically driven and government-endorsed public service intended to improve the quality of British design, the taste of British retailers and consumers, and the profitability of British manufacturing. Its language, references, and philosophical underpinnings, rooted in the cleansing rhetoric of mid-nineteenth-century design reform, had been reinforced through the publications, broadcasts and exhibitions of early twentieth-century institutions.
Similarly, in the US in the 1950s the discussion of design was linked to efforts to boost the sales of American industrial design in the marketplace. Such discussion was led, for the most part, not by government bodies, however, but by an alliance of cultural institutions, publishing, and retail businesses. At the forefront was the Museum of Modern Art, which staged multiple exhibitions and competitions as part of its "Good Design" program, directed by Edgar Kaufmann Jr. Between 1950 and 1955 three exhibitions were staged each year, two at the Merchandise Mart in Chicago and a third at the MoMA in New York, with award-winning examples of good design indicated with distinctive orange and black labels.11 The Museum's activities were further promulgated through its own publications, talks and panel discussions, and through lengthy reviews and transcripts of these events in trade architecture and design publications. Here the emphasis was on commercial competitiveness, what Interiors magazine summarized as a combination of "facility and economy of manufacture, and sales appeal," and what the selection committee of the 1951 "Good Design" exhibitions described as "a real contribution, in looks, in efficiency or in price."12
Whether they originated in the UK or the US, definitions of what constituted "good design" or "contemporary design" often sounded similar. Each referenced Arts and Crafts and Modernist-derived moral and aesthetic values, which advocated that the structure, means of manufacture, construction materials, and purpose of a product should all be evident, while decoration should not.13 Kaufmann asserted that "Modern design should be simple, its structure, evident in its appearance, avoiding extraneous enrichment." His "Good Design" selection committee passed over "pieces that would dominate a room by their sensational aspects" in favor of ones "that showed a more controlled design."14 In the UK, Paul Reilly, Head of the Council of Industrial Design's Information Division, echoed this preference for restraint, and this anthropomorphizing tendency of transposing human character traits onto furniture. He used qualities such as honesty, decency, straightforwardness, and modesty in order to distinguish "contemporary design" from "the rootless, vulgar, modernistical furniture that glittered in chain store windows."15
The new design critics discussed in this chapter were often hired to write for and about institutions like MoMA and CoID, but, as independent critics, they were not beholden to them. Richard Hamilton, for example, referred to MoMA as "a custodian of relics as well as a propaganda machine," while Reyner Banham castigated CoID for its "narrow, middle-class" interpretation of taste, and its misguided belief that there was "some kind of necessary relationship between the appearance of an object and its performance or quality."16 These writers questioned the CoID's official line on contemporary design and the normative rhetoric of MoMA's "Good Design" program, demonstrating, instead, an appreciation of surfaces, symbols, and styling, technological advances, planned obsolescence, and the perspective of the knowing user-consumer.
American Studies historian Daniel Horowitz observes that in the 1960s new types of writing about consumer culture emerged in Western Europe and the US that encapsulated changing attitudes toward pleasure and playfulness.17 Acknowledging that early-twentieth-century writers had also dealt with pleasurable experiences created by commercialism, but had usually "linked them with what they considered lowly, corrupting and escapist indulgences such as excessive drinking and illicit sex," Horowitz posits that by the 1960s changing moral attitudes had allowed for new ways of looking at consumer culture.18 He identifies the ways in which writers such as Tom Wolfe, Umberto Eco, and Roland Barthes challenged the divide between high and low, adopting what he calls an "anthropological outlook" on culture.19 To Horowitz, these writers were "increasingly focused on pleasure, playfulness, and sexuality as key aspects of a more positive interpretation of commercial culture. They wrote of the way automobiles, clothing, the built environment, comics, advertisements and movies enabled people to gain emotional enrichment from commercial goods and experiences."20
Such writers depicted consumer culture as a broadly defined social phenomenon, and its products typologically rather than specifically. While Wolfe tended to use designed objects in his writing as stage props to support the veracity of his detailed character portraits, and Eco and Barthes studied them in essentialist terms, the design critics brought to light in this chapter engaged more directly with the design, manufacture, and use of commercial goods. Writers like Banham and Allen used poetic language to illuminate the products they depicted, rather than using the names of products to enliven their prose, and addressed the detail of specific year models and editions rather than generic types.
A different, and more anxious, current of criticism also gained traction in the latter half of the 1950s, particularly in the US. This directed public attention toward the adverse effects of the product design industry on the environment and on society, and was written for a general audience by commentators such as the sociologist C. Wright Mills, historian Daniel Boorstin, and the lawyer and author Ralph Nader. Such writers considered consumer goods from the perspectives of fields beyond design such as sociology, economics, politics, and ecology. By the early 1960s these two very different forces of resistance—literary, on the one hand, and sociological, on the other—were beginning to disturb, and in some cases redirect, how and why interpretative commentary about design was conducted, and whom it was for.
This chapter charts the emergence and impact of a genre of writing, attuned to its role as criticism, that represented a new attitude toward the design, manufacture, and use of consumer products in the postwar period in the US and the UK. This new writing countered the elitist and didactic motivations of official design propaganda through interpretations that embraced emotional responses as well as practical realities, and through the introduction of antiestablishment values. Most notably, this new brand of writing aimed to engage readers through the use of heightened language which can be termed literary product design criticism.
A "pre-occupation with honesty in design"21
In the February 1960 issue of Design, the monthly journal of the British Council of Industrial Design (CoID), readers found an article that did not seem to belong with the journal's typical content. Titled "The Persuading Image," it was written by the artist Richard Hamilton, who, in the late 1950s and 1960s, was gaining recognition as one of the founders of the British Pop Art movement but was also practicing as a designer, teaching in the Royal College of Art's interior design department and the fine art department at King's College, Newcastle, and writing about design in Architectural Design, the Architects' Journal, Uppercase, and Design, among other publications.
In "The Persuading Image," Hamilton wrote about how, during the 1950s, American industrial manufacturers and designers had used sophisticated and witty imagery to seduce their consumers, to "mould" them to fit the products they had already created, and the implications of these precedents for manufacturing, marketing, and consumer practice in 1960s Britain. Hamilton's positive interpretation of these calculating industrial practices, and his serious consideration of such issues as styling, image retouching, motivational research, and planned obsolescence, disrupted Design's narrow editorial perspective, visually, tonally, and in terms of its values. Design's philosophy was based upon "well established principles," which John Blake summarized in his editorial preface to the February 1960 issue as "truth to materials, to production techniques, to the expression of the nature of a product and its function and, more recently perhaps, to the fulfilment of basic human needs."22 According to Blake, who used an anecdote in which "an American designer recently expressed bewilderment at his young British assistant's pre-occupation with honesty in design," there was a profound disjuncture between British and American views of design's positioning in society.23 While the British considered design a social and moral concern, Blake and Design magazine, averred, the Americans, apparently, could only conceive of its value in commercial terms.
Hamilton's idiosyncratic take on the social benefits of advanced capitalist product design challenged the established viewpoint of the CoID, and the British design professions it represented. His article offered a more pragmatic, style-oriented, and American-influenced perspective on the inevitability of capitalism and the designer's complicated role therein.
A "duty" to fight against "shoddy design"24
In order to understand the ways in which Hamilton's article jarred with the ethos of its host publication, it is necessary to take a look back at the formation of these values. The Council of Industrial Design was established in London in 1944 by the Coalition Government in anticipation of the need for a postwar boost to Britain's manufacturing industries, and to help the transition from the state-controlled production of wartime to a mixed market-based system.25 The CoID translated Britain's need for a competitive edge in international markets into a two-pronged domestically focused mission: to raise consumer taste and to encourage manufacturers to produce better-designed goods. In its campaign to raise standards as a matter of civic duty, the CoID followed in the footsteps of other propagandizing organizations established in the first half of the twentieth century, such as the Design and Industries Association (1915), the Council for Art and Industry (1933), the Society of Industrial Artists (1930), and the Royal Designers for Industry (1936).
The CoID was funded by the Board of Trade, and while the main impetus for improving design standards was economic, the CoID was also a direct descendant of the nineteenth-century design reformists who believed in the power of good design to effect social change and to uphold moral values.
Nineteenth-century design reformists transposed moral virtues to the field of craft production, invoking such tenets as "truth to materials" and "honesty of construction" in their efforts to improve the aesthetic quality of the decorative arts and the condition of the society in which they were produced. John Ruskin, a leading critic of the Victorian era, saw the state of decorative arts and architecture as indices of the spiritual health of society. He was concerned that Britain's too-rapid industrialization would obliterate its natural landscape with mills, quarries, kilns, coal pits, and brick fields. In a lecture at the Bradford School of Design in northern England, he said: "Unless you provide some elements of beauty for your workmen to be surrounded by, you will find that no elements of beauty can be invented by them."26
William Morris, a socialist writer and designer who became the best-known theorist of the late-nineteenth-century Arts and Crafts movement, also linked aesthetics to social conditions. In a lecture in Burslem, a town at the center of the Midlands pottery industry, he spoke of the correlation between a beautiful living environment and the creation of beautiful design, conscious that as he spoke he was standing "in a district that makes as much smoke as pottery."27 He set the notions of "art" and "dirt" in opposition, suggesting that the land would have to be turned from the "grimy back yard of a workshop" into a "garden" in order for art to flourish: "Of all the things that are likely to give us back popular art in England, the cleaning of England is the first and the most necessary."28
The reformist mission to tidy up England and to cure its social ills had a pervasive legacy due to the widespread distribution of Morris and Ruskin's published writings and the design-related institutions they helped to shape, and they still informed the tenor of most CoID activities more than half a century later. For example, a 1936 article charting twenty-one years of the Designers and Industries Association devoted a spread to a family tree of influences converging on current DIA exhibitions and publications, and at the head of this family tree was a photograph of William Morris.29 Additionally, Gillian Naylor, an editorial assistant at Design, has recalled the importance to the CoID of William Morris specifically, and that "once, in an editorial, C. R. Ashbee was spelt Ashby and Gordon Russell, then director of the CoID, pointed this out and said, 'These are the people this institution is founded upon and you must at the very least get their names right in the magazine!'"30 Echoes of Morris and Ruskin could be heard in architecture and design critic Nikolaus Pevsner's assertion, in a 1946 BBC Radio broadcast, that "Bad design is just as devastating for people as bad air and over-long hours."31 In the same year, design critic Anthony Bertram, writing about the "Enemies of Design," was hopeful that a group of new reformers he called "the Doctors" would succeed through their writing in "trying to heal the present tragic disease of the useful arts."32
One of these "doctors" and a keeper of the reformist flame was Michael Farr, who edited the CoID's journal Design from 1952 to 1959, and stayed on as Director of Information until 1962. While studying English Literature at Cambridge, with the literary critic F. R. Leavis, he met Pevsner, who was then the Slade Professor of Fine Art at the university.33 Pevsner asked Farr to write the revised edition of his 1937 tome, An Inquiry into Industrial Art in England, and so Farr's introduction to design was a kind of trial by fire in the form of a rigorous study of hundreds of British manufacturers, designers, and retailers, conducted under Pevsner's supervision.34 In the introduction to Design in British Industry: A Mid-Century Survey, Farr revealed his belief—in line with Pevsner's, and channeling those of Morris and Ruskin—that the mission of design reform was inextricably connected to that of social reform:
One cannot approve of thoughtless and insensitive designs. Neither can one approve of dishonest designs, such as a pressed glass bowl trying to look like cut crystal glass, a plastic-covered handbag made to resemble snakeskin, an aluminium teapot masquerading as hand-beaten pewter. In the same way one cannot approve of imitations of period designs. As we shall see, the arbitrary invocation of antique styles is a disease from which few industries are free. … Such false and meretricious designs attempt to provide a substitute for the needed splendour which all aspects of our environment should be made to concede. The pleasure which most people take in an entertainment so vicarious as the cinema, as well as the pleasure in vulgar and boastful design, is largely accounted for by the universal longing to escape. Looked at from this point of view, the question of industrial art is a social question, it is an integral part of the social question of our time. To fight against the shoddy design of those goods by which most of our fellow-men are surrounded becomes a duty.35
Farr depicted a designed landscape infected by mass culture and such antisocial values as "thoughtlessness," "insensitivity," "dishonesty," "falsehood," "vulgarity," "boastfulness," and "shoddiness," all of which he believed it was his "duty" as a design critic to "fight against." Through enumerating the evils of an environment lacking in "splendour," he conjured a conception of a contrasting ideal society, guided by the direct opposites of such values, namely: honesty, functionality, taste, modesty, and craftsmanship and durability. The ideals expressed in this passage, inherited from the design reformist tradition, as well as the use of the formal, seemingly objective third-person pronoun to express strongly subjective and elitist views, were typical of the content of the numerous publications issued by the CoID well into the 1960s.
"One more word about teapots": Design magazine36
Design magazine, founded in 1949 as the CoID's journal of record, functioned as another weapon in the Council's propagandist armory, alongside its exhibitions of good design held at the Design Centre in Haymarket, London (opened in 1956), its Good Design Award Scheme (begun in 1957), its educational films, wall cards, portable box exhibitions, newsletter, joint ventures with the BBC and Penguin Books, and its Design Index (a catalog of British products which met the Council's selection criteria). The CoID was organized into the Industrial Division and the Information Division, which corresponded to its dual objective of "the creation of a Supply of good design" and "the creation of a Demand for good design," respectively.37 The magazine, which fell under the auspices of the Information Division, reported on consumer goods already endorsed by the Council; as Gillian Naylor remembers it, "The CoID used to feed us material which they wanted us to feature in the magazine."38 The schematic organization of the magazine also derived from the CoID Design Centre, which grouped its objects and design files "as far as possible to correspond with department store practice."39
The CoID's main role was to define and extol "good" design in order to try and persuade the British public that modern design was what people should be buying.40 "Appropriate materials," "good appearance," "good workmanship," "suitability for purpose," and "pleasure in use" were some of the recurring criteria by which products were selected for the Council's Design Index and, by extrapolation, for inclusion in the magazine. A 1954 Readership Survey revealed that Design's readers were not particularly inspired by the magazine's reliance on the unexplained absolute of "good design" for its editorial decision-making. The survey makers summarized the readers' responses by saying: "There is a good deal of demand for articles presenting points of view other than an 'official' one."41 It is also telling that the survey found that the most popular section in a magazine devoted to the improvement of British product design was the "Foreign Review."42
The readership survey also reveals that very few members of the so-called "British public," beyond designers, were actually reading Design, and it was available only at specialist bookstores and through subscription. Of its 13,600 readers in 1960, the highest percentage worked in the furniture and appliances sector, and the second-highest readership was in education.43 And yet, since few other British publications of the period were focused solely on contemporary industrial and product design, the journal filled a significant gap in the market for coverage of its subject. Its editors aspired to emulate the Architectural Review, which at the time was commissioning thoughtful and much-debated examinations of urban concerns by such outspoken and incisive writers as Ian Nairn, whose "Outrage" and "Counterattack" features on the spread of urban sprawl in the UK garnered attention for the Review. In reality, Design's nearest competitor, for a general audience at least, was probably Which magazine, the journal of the Consumers' Association, a product-testing and consumer advocacy charity founded in 1957, which by 1959 had 150,000 members. The small 32-page magazine included reports of its laboratory testing on electric kettles, aspirin, cake mixes, scouring powders, non-iron cottons, and the like. Design stated that its intention was to evaluate design based on an analysis of the distance between "the promise of the product's appearance" and its actual ease of use, but was understandably keen to distinguish itself from Which, whose February 1960 issue featured hormone creams, cycle rear lamps, and deodorants—products that rendered Design's evaluative criterion somewhat futile.44 Design reaffirmed that its intention, therefore, was "less to provide a guide to what is best on the market than to suggest, through a close study of individual products, what are the things that really matter in design, and consequently what are those areas of investigation and research which are of most concern to designers and manufacturers."45
The other articles in the February 1960 issue of Design, in which Hamilton's unorthodox article was published, included a piece on street furniture with an introduction by the Minister of Transport; an article about a stool designed to help factory workers move between work stations; and a report about design in Czechoslovakia. These kinds of informative, but rather dry, articles about aspects of design's application to British industry were a mainstay of the magazine at the time. As John Blake recalled, "Much attention was devoted to ergonomics, then emerging as a practical science that could describe more precisely the physical and psychological needs of people."46 The showcased projects tended to be worthy municipal initiatives, evaluated in earnest, sometimes hectoring language, and illustrated with black-and-white photographs. Bruce Archer's analysis of a new range of melamine cups and saucers represents the extreme of the quasi-scientific approach to design evaluation that pervaded the magazine by the early 1960s. Archer, who sought to bring the robustness of his engineering background to bear upon design criticism, started a series titled "Design Analysis" in 1957. He took on one product every other month, and used a set of concrete standards he had developed in order to measure the worth of its design. "By selecting one product at a time," Farr reflected of Archer's project, "it shows how the design stands up to technical cross-examination at the manufacturing stages, and functional analysis at the point of use."47
The left-wing poet, essayist, and former editor of Encounter magazine Stephen Spender, in a 1958 speech to the Society of Industrial Artists, crystallized mounting unease among the design-conscious public about CoID's stultifying bias toward functionalism. Spender saw too many designed goods "pincered" between the "two extremes of utilitarian functionalism—the aeroplane on one flank and the kitchen utensil on the other."48 He listed the visual attributes of functionalism as "bareness, simplicity, squareness or roundness, solidity, seriousness," and warned that equating functionalism with beauty (a message often contained in the pages of Design magazine) was really a sleight of hand. He continued:
I know the objection to my way of thinking. It is that designers are designing today for socialised welfare state man, leading him down the Welwyn Garden path, educating him gently with discourse piped from the Third Programme. None must talk too loud, no one must flash a light too brightly in his eyes, there must be no violent splashes of colour, he must be anaesthetised with good taste, and who but the British, with the British Council, the Arts Council, the Third Programme, the Design Centre, panethol, chlorophyll, Dettol, know most about disinfectants and anaesthetics.49
A challenge to the taste anesthetists
Only a year later, along came a writer more than willing to talk loudly, flash lights, and splash color in the faces of the taste anesthetists at the CoID. With his "Persuading Image" article, Richard Hamilton upset the delicate balance of good taste, belief in the conflation of usefulness and beauty, and adherence to design reform social values that the CoID had endeavored to maintain in the postwar years.
Hamilton was born in London, the son of a car showroom driver, and disparately schooled in art at a variety of adult education evening classes, the Royal Academy Schools and, when they closed in 1940, in engineering draftsmanship at a Government Training Centre, and finally at the Slade. In the late 1950s, Hamilton was developing an art practice inspired by popular culture and a writing practice through which he tested his ideas. Recalling his life at the time, he said: "Why was I going to the cinema three times a week, and reading Esquire and Life magazine and then going home to the studio and painting monochrome squares and hard-edged abstraction? It didn't seem to fit. So I tried to incorporate the material I was interested in—the sociological aspects of current living—and create a kind of aesthetic which would enable me to produce a painting that I felt reflected the situation in which I found myself. Writing helped me work through these ideas."50
The "Persuading Image" article was based on a lecture that Hamilton had delivered in 1959 at the Institute of Contemporary Arts (ICA) to members of the Independent Group. This loose-knit salon included the artists, critics, and architects Lawrence Alloway, Reyner Banham, Theo Crosby, and Alison and Peter Smithson. The group had been meeting since 1952 to plan exhibitions and discuss ideas about the machine aesthetic, science fiction, communication theory, and other aspects of pop culture, specifically American pop culture, as a rebuttal to prevailing standards of good taste in 1950s Britain, and in particular those of the founders of the ICA, the critics and collectors of modern art Herbert Read and Roland Penrose.51
The Independent Group discussions were motivated by an impulse to break down the divide between high and low culture. Group members prided themselves on being genuinely interested in, and bone fide childhood consumers of, what Banham termed "the popular arts of motorized, mechanized cultures … like the cinema, picture magazines, science fiction, comic books, radio television, dance music, sport."52 Alloway, in particular, theorized this position in relation to the popular arts. In his 1959 article "The Long Front of Culture," he presented a conceptual model that put culture along a horizontal spectrum, rather than stacked in a hierarchical pyramid, with mass culture at the bottom and refined high culture at the top: "unique oil paintings and highly personal poems as well as mass-distributed films and group-aimed magazines can be placed within a continuum rather than frozen in layers in a pyramid."53 Alloway's article dismantled the idea that the arts were the exclusive possession of an elite, and argued that permanence and uniqueness were the only criteria by which the value of material culture might be judged.
Among the influential exhibitions the Independent Group organized, with Alloway's premise at their centers, were: "Man Machine and Motion" (ICA, 1955), in which Hamilton attached blown-up photographs of machines in use to a modular steel frame; and "This Is Tomorrow" (Whitechapel Gallery, 1956), in which Crosby coordinated twelve teams of artists, critics, and architects who each explored through mixed media different aspects of the future. Hamilton's poster for this exhibition, titled "Just what is it that makes today's homes so different, so appealing?," was a collage of images sampled from magazines, including a 1955 Constellation Hoover, a tin of Armour Star Ham, and a photograph of the earth, which Hamilton saw as representative examples of the categories of emergent Pop iconography, such as domestic appliances, processed food, and space.
The Independent Group also arranged a series of lectures for small groups of invited guests that included expositions on Elvis and on violence in the cinema. Hamilton's lecture, "The Design Image of the Fifties," that he delivered in the fall of 1959, investigated domestic appliances such as washing machines, vacuum cleaners, radios, and refrigerators, and the role of advertising in creating the image of these consumer goods.54 He described his ICA presentation as being rather "exotic." He had three projectors and three screens, one of which took up the whole of the back wall of the ICA meeting room, then located at 17–18 Dover Street. This format was Hamilton's response to the multiscreen film Glimpses of the U.S.A., produced by the American designers Charles and Ray Eames for the 1959 American National Exhibition in Moscow, in which 2,200 images were projected on seven twenty-by-thirty-foot screens, and which had been reported on in the April 1959 issue of Industrial Design magazine. "In my modest little way, I was trying to catch up with the avant-garde," Hamilton recalled.55
How to design a consumer for a product
Hamilton's lecture and article described how a sophisticated image industry had constructed the internationally exported image of an opulent 1950s America.56 He examined the relationship between designers, manufacturers, publicists, magazine editors, and consumers, and how the image functioned at each juncture of the production, distribution, and consumption of goods. He was particularly impressed by the ways in which American manufacturers hired image makers to manipulate consumers to buy the products they had already created: an efficient system, in his view, where "the consumer can come from the same drawing board" as the product.57
Hamilton argued that while British designers were "interested in the form of the object for its own sake as a solution to given engineering and design problems," social and economic realities had, in fact, effected a complete reversal of these values. What American designers realized, he thought, was that the most important aspect of design was not appearance or usefulness, but rather the maintainability of the production and consumption cycle. Hamilton recounted how American designers had developed "a new respect for the ability of big business to raise living standards," and big business now appreciated "the part that design has to play in sales promotion."58 In Hamilton's view, the virtue of American industrial design was that it had "come to terms with a mass society" in ways that British designers still seemed incapable of. Functionality now had to encompass how well a product was working in the market.
Hamilton's article was conspicuous in the pages of Design through its role as a conduit for American perspectives on economic and social practices. The idea, for example, that manufacturing efficiency and national prosperity were contingent upon accelerated obsolescence had been propounded by American economists like Peter Drucker.59 The sentiment that "we are obligated to work on obsolescence as our contribution to a healthy, growing society" was typical of free-market economic thinking in late-1950s America.60 Hamilton had also read the articles of American industrial designer George Nelson, who, in his 1956 article on "Obsolescence," had explained that America's wealth was dependent on its wastefulness, which enabled mass production at an ever-increasing pace, and "provides a way of getting a maximum of goods to a maximum of people."61 Nelson assumed that the European view of this situation would be "a blend of appalled curiosity, downright disbelief, righteous indignation and envy."62 Hamilton's response defied this expectation; he was convinced that "increased productive capacity is a basic social good."63 And, in fact, the righteously indignant response to the issue came from an American, the social critic Vance Packard, whose book The Waste Makers, a hard-hitting social critique of planned obsolescence, was published in 1960 and crystallized concern over the contribution of planned obsolescence to a perceived crisis of American cultural values.
For Hamilton, however, an appreciation of "big business" (a term he had previously brandished in his 1957 enumeration of the qualities of the emerging genre of Pop Art) and mass society was what was missing from British industrial design.64 "Even the production of goods of dubious value, is, in the long term, likely to benefit society," he argued.65 "Change is most likely to occur in those objects that least deserve to live," he opined in another article about obsolescence.66 He was clearly frustrated by the slow uptake of such ideas on his side of the Atlantic.
Most other articles published in Design betrayed a bias toward the social utopian ideals they saw as materialized in pure forms dictated by function, natural materials, craftsmanship, and the work of Scandinavian designers, for example. Hamilton, by contrast, provided a glimpse of the economic reality in which mass-produced design actually operated. He conceived of industrial designers not as craftspeople but as canny commercial operators, describing them variously as "marketing aids," "men who establish the visual criteria," operators of "the machinery of motivation control," and collaborators with "ad-man, copywriter and feature editor."67
Hamilton admired the people who knowingly constructed the "designed image of our present society" in the pages of "glossy magazines." These were the very images, after all, that provided him and other members of the Independent Group with such a rich source of raw material for their discussions and artwork. He talked of their creators' "skill and imagination" and "wit," and quoted their slogans—"plush at popular prices"—surely aware of the goading effects such language would have on Design magazine's editors and readership.68 Even the use of the single word "glossy" would have triggered complex reactions in postwar Britain. Paper rationing continued in Britain for several years after the end of the war, and even by 1960 British magazines were rarely printed on gloss paper. Hamilton was using the word to describe American mainstream magazines such as Life, Look, and Esquire. But he was also aware of the pejorative nature of the term's metaphoric connotations in a postwar Britain fearful of the Americanizing influences of "ersatz" and "candy-floss" mass arts on the previously "organic" expressions and "oral traditions" of working-class culture, as left-wing sociologist Richard Hoggart had termed them.69 The 1961 Design Readership report, produced after Hamilton's article had been published, revealed that some readers considered that even Design was becoming too glossy. The director of a firm producing tubular steel products opined: "There is too much window-dressing by art people and it has gone off the functional idea. It is tending to become an art-glossy."70 In his 1957 book The Uses of Literacy, Hoggart used the term "glossy" as a negative label for the kinds of furniture shops, novelettes, and magazines he believed were exerting such a worrying influence on British society. In describing monthly pin-up magazines, he wrote: "The 'cheesecake' is a little more advanced than most newspapers would be prepared to print at present, and especially well photographed on glossy paper."71
Hamilton was keen to draw a distinction between the popular arts, "in the old sense of arising from the masses," as championed by Hoggart and others, such as the author George Orwell, and his own conception of a more industrialized and calculated Pop Art, which he saw as stemming from a professional group with a highly-developed cultural sensibility. In a 1960 lecture at the National Union of Teachers conference, Hamilton reemphasized the difference he perceived between unsophisticated working-class popular arts such as club singing, on the one hand, and the current manifestations of the commercially driven, urbane popular culture he was so fascinated by, on the other: "The analysts of popular culture in recent years have been negative in their approach. Whyte, Packard and Hoggart, whose ideas as we know have been given full rein in the mass media, are unanimous in their condemnation [of 'gloss, glamour and professionalism']. The story is the same: the end of the world is upon us unless we purge ourselves of the evils of soft living and reject the drive for social and economic advantages."72
The title of Hamilton's Design article, "Persuading Image," evokes the title of another of Vance Packard's books, The Hidden Persuaders, a best-selling critique of Motivation Research (MR), a practice being used by the American advertising and marketing industries to "depth-probe" the consumer psyche. Based on methods used by the government during World War II, which drew on the depth psychology of Freud, but also on sociological and anthropological research techniques, MR attempted to ascertain the effects of consumers' psychological weaknesses on their buying habits. Packard identified eight "compelling needs," including secret hostilities, guilty feelings, and sexual impulses, that marketers convinced people they might fulfill through the products they bought. "These depth manipulators are, in their operations, beneath the surface of conscious life, starting to acquire a power of persuasion that is becoming a matter of justifiable public scrutiny," he wrote.73 Hamilton thought that "the effect of this criticism of our culture, coloured as it is by the hysterical overtones of its re-interpretation within the mass media, has been to create an atmosphere of unrest, which can itself be dangerous."74 His use of the word "Persuading" in his title invoked Packard's work, therefore, but denied its moral viewpoints.
A definition of the term "affirmative" in the glossary of the "Urban Image" piece Hamilton wrote for Living Arts in 1963 gives some insight into his critical stance. Of his choice of the word "affirmative," Hamilton wrote: "Yes. Somewhat forced expression of need to conclude on a grandly positive rhetorical note. An art of affirmatory intention isn't necessarily uncritical; though I affirm that, in the context of our present culture, it will be non-Aristotelian."75 For Hamilton, this idea of non-Aristotelian logic, in which value judgments were irrelevant, derived from an influential conversation with the artist Lawrence Alloway about the physicist John von Neumann, whose work on quantum logic suggested to Hamilton that "we can't take a moral position any more because it's all to do with flipping coins and roulette wheels and chance, and that means there is no longer any justification for Aristotelian logic."76
Hamilton's use of the word "Image" in his title was probably equally provocative at the time. At Design, there was a wariness toward the visual image; the technical and functional attributes of products were always stressed, as if in compensation for the superficial allure of their visual appearance. In a review of two graphic design exhibitions held in London in 1960, for example, John Blake observed of an image's need to compete for attention with its neighbor: "there is a danger in such demands for attention, for the designer is tempted either to produce work that is vulgar or, in escaping from this, to resort to sophisticated pattern-making."77 Suspicion of the image in Design tended to be conflated with suspicion of American culture and design. Referring to an exhibition of American design held at the US Trade Center in London, Blake derided the commercial nature of American packaging design, concluding that there was little on display "that would have been acceptable to even the most catholic of British selection panels."78 He added that the difference between a British and an American designer lay in the fact that the latter was "untroubled by the pangs of conscience that afflict at least some of his European colleagues."79 This resentment of America and its popular culture exports, which were a blatant reminder of Britain's comparative economic decline after the war, was widespread in British social commentary of the period. American values were often used in the postwar years as a new target to replace Fascism in the public imagination. Cultural critic Raymond Williams wrote in 1962 that the very worst of the mass media "is American in origin. At certain levels we are culturally an American colony. … To go pseudo-American is a way out of the English complex of class and culture, but of course it solves nothing; it merely ritualises the emptiness and despair."80 This kind of critique was not confined to the UK; in the US, too, there was rising concern about the social symptoms of mass consumerism. In his 1961 book The Image, historian Daniel Boorstin, for example, defined an illusion as an "image we have mistaken for reality," and observed ruefully that "The making of illusions which flood our experience has become the business of America."81
For Hamilton, however, as a fan of America and its "illusion" industries of advertising and public relations, the constructed image was far from sinister. The exchange of art-directed images was a shared connection among his peers, who were obsessed by what he termed "pin-board culture." "We would walk into the houses of friends and find we all had exactly the same picture," he said. "There was a picture of an American model wearing a backless dress, showing her backside cleavage, which was very venturesome. That was on everyone's pin boards."82 Hamilton used the image of swimwear model Vikky Dougan's back, framed by a low-cut white dress, clipped from a 1957 Esquire magazine feature, to illustrate "Persuading Image," as well as for the artwork he created between 1958 and 1961 titled "$he."
Hamilton's fascination with the art direction and construction of images is also evident in his inclusion of the 14-item list of the crew and props it took to produce the complex self-portrait that was used for the cover of the ICA publication Living Arts, discussed above. The image features a 1963 Ford Thunderbird with a lingerie model sprawled on the back, and Hamilton himself wearing an American football uniform leaning on the hood, a Mercury spacecraft capsule on loan from Shepperton Film Studios, a refrigerator stuffed with American food, a Wondergram, a vacuum cleaner, telephone, typewriter, and toaster, all arranged on a background of high-gloss pink paper on the pavement outside the Taylor Woodrow building in West London, and photographed from an upper floor by Robert Freeman. Hamilton credited the photographer and the stylist, and himself as the "producer" of the image.
"Stirring the pot of controversy"83
Considering how divergent Hamilton's article was from CoID's values and Design's typical content, why did the magazine's editor commission the piece? In 1960 the magazine's editorship was in transition. Michael Farr, who had edited Design since 1952, became Chief Information Officer, handing the magazine's editorship to his deputy editor, John E. Blake, a young graduate of the Royal College of Art who had worked on ARK, the college publication. In February 1960 Blake had been editor of Design for only a couple of months. It is likely that, with the publication of Hamilton's piece, Blake was trying to define a new direction for the magazine and stake out the different terms of his editorship, while Farr was trying to generate new readers for the magazine, for which he now had a greater financial responsibility.84
Most historical accounts portray Design as merely a propagandist "mouthpiece" of the CoID, and there are certainly grounds for this view in the close parallels between CoID's values and the content of the magazine. Still, there was a tension at play in the pages of Design between the principles of CoID-endorsed good design on the one hand and the imperatives of critical journalism on the other. The editors were often under pressure from the Council's Information Division to include in the magazine CoID-approved consumer goods, especially those manufactured by its trustees, who were also advertisers and thus among CoID's sources of income.85 By the early 1960s, advertising had assumed an increased influence on the magazine's editorial content. Particularly objectionable to the management were articles that seemed in any way "anti-British industry," and the fact that Design's editorial was increasingly devoted to "overseas material," which presented "an almost hopeless task for gaining advertisements."86 But editors like Farr and his mentee Blake had a journalistic appreciation for provocation, and saw their role as injecting lively debate into the journal's pages.
According to Ken Garland, who was Design's art director at the time, Farr "relished stirring the pot of controversy."87 Farr was interested enough in other design and consumer magazines to instruct Garland to prepare for him a monthly report on them. Like Hamilton, Garland appreciated the American magazines Interiors and Industrial Design. He recalled: "if I had a model it would be these magazines … we used to receive these publications with great eagerness each month."88
Prior to joining Design, Farr had also worked as news editor for the Architects' Journal and the Architectural Review.89 In Architectural Review during 1959 and 1960, critical debates were signaled with the use of yellow paper stock, red type, and attention-grabbing typographic devices such as starbursts, enlarged quote marks, and arrows, and led to heated letters printed in subsequent issues.90 It is probable, therefore, that in asking writers like Hamilton, Banham, and Alloway to contribute to Design articles that challenged CoID's worldview, Farr and Blake were seeking to emulate Architectural Review's debate-generating strategy in the hope of gaining more readers.
The art direction of "Persuading Image"
Within the pages of the February 1960 issue of Design, Hamilton's article was emphatically flagged. It was the lead article. Its first page was printed on bright yellow paper, and color tints were used, at a time when color tended to appear in the magazine only when manufacturers paid for it in order to better show off their products.91 Garland recalls that the bolding of key phrases, such as "control of the consumer" and "plush at popular prices," was to "enliven and emphasize" the text, and was done in consultation with Hamilton.92 Hamilton's use of imagery was also unique within the pages of Design. The images he and Garland selected to illustrate his piece floated alongside the text allusively rather than as directly referenced examples. Also hovering were Hamilton's enigmatic captions, which quoted advertising slogans and editorial hyperbole as a form of poetry. Beneath a selection of images of car detailing and a page excerpted from Look magazine, for example, is the text: "'Functionalism is not enough for Americans,' says the page from Look, and the automobile body designer knows it. High fashion stylists in metal use the symbols of speed, sex and status to gain sales appeal."93 This kind of unfiltered sampling of American advertising and editorial language sits uneasily in the pages of Design, but found a more fitting home in Hamilton's artworks and more creative pieces of writing (such as his "Urbane Image" article published in Living Arts in 1963), where ambiguity lends the works and prose their tension.
The contentious nature of Hamilton's article was suggested in Blake's editorial introduction to the issue. Under the headline "Consumers in Danger," Blake primed his readers by promising them a "controversial" article with a conclusion "of a form of economic totalitarianism not greatly dissimilar from Orwell's terrifying prophecy." Blake summoned the force of George Orwell's novel about totalitarian ideology, Nineteen Eighty-Four, which had been published in 1949 and had sustained the public's attention, as its narrative seemed to be confirmed by actual events of the Cold War. He concluded his introduction with the rhetorically loaded question: "Do we believe it is more important for industry, and the designer, to serve the real needs of the consumer, or are we content with the prospect of the consumer becoming a pawn in the grip of an economic master who rules exclusively to serve his own ends?"94
In his editorial leader, Blake drew readers' attention to what he perceived to be the key phrase of the piece: "design a consumer to the product." In an effort to extend the article's lifespan across several issues, just as the Architectural Review was doing so successfully with its Criticism features, Blake promised a continuation of the debate in a subsequent issue, where he planned to publish the "comments of designers and design critics from Europe and America on the issues raised in this controversial article."95
The readers respond
Design magazine invited responses to Hamilton's article from a select group of American and European designers, manufacturers, and critics, which appeared in the magazine's June issue. Most objected to what they perceived to be Hamilton's lack of social responsibility and his complicity with reviled American values. Industrial designer Misha Black said: "The designer can admittedly 'maintain a respect for the job and himself while satisfying a mass audience,' but only while he retains some respect for the civilization of which he is a part; if he ceases to be concerned with real values in society then he becomes a polite equivalent of the dope peddler who also satisfies a social need."96 D. W. Morphy, of British home appliances firm Morphy Richards, considered the design Hamilton talked about "false design," and hardly likely to deceive the public.97 Alberto Rosselli, editor of the Italian magazine Stile Industria, was reported as saying: "The Hamilton prescription is immoral in that it might lead to indiscriminate use of persuasion."98 Even George Nelson, whose articles in Industrial Design had inspired Hamilton, commented that Hamilton's conclusions were "depressing, even nauseous."99
The discussion continued in the form of readers' letters in subsequent issues, but Hamilton himself was given the last word. He wrote: "The phrase that caused the alarm, 'designing the consumer to the product,' is a redefinition of a well-known process; for the ultimate political evil it was called fascism, when directed at purely commercial objectives it is called salesmanship, without the moral overtones it is known as education. We are all concerned, in one way or other, with the conversion of others to a point of view."100 Hamilton was particularly keen to have the last word with regard to the comments submitted by Banham, then assistant executive editor of the Architectural Review and Hamilton's intellectual sparring partner in the Independent Group. Banham was dismissive of Hamilton's arguments, and seemed to be defending his own preserve of writing about industrial design. He suggested that one benefit of high obsolescence could be the creation of a situation in which "fine art designers who believe a 'good design is forever,' will decide that product design is beneath their contempt, and get out, leaving the field to men far better qualified to realise the satisfaction of consumer wants with a far clearer sense of the product designer's position as the servant of his mass public."101 Hamilton responded to his "critics" generally except in the case of Banham, whom he singled out for direct rebuttal: "[Banham's] reading was as slipshod as any since he repeats much of what I said in a tone of contradiction, but he is so much a democrat that he equates 'controlled' with 'being pushed around.' If his conception of democracy is carried much further there is a danger of his becoming conservative."102
Writing about the effects of Hamilton's "Persuading Image" article, design historian John Hewitt concludes: "To a Council that had always preferred the idea of serving a consumer, of responding to his/her needs, not those created through market research or advertising, the very idea of controlling the consumer and of integrating him/her totally into the market processes in order to meet different, purely commercial objectives, was total anathema."103
And yet, it had also been the CoID's longstanding mission to "mould" British consumers by seeking to educate them in the principles of good design. Design magazine, specifically, under pressure to sell more issues, was beginning to show curiosity about, if not exactly to "depth probe," its own consumers. While Hamilton's article was being published, Design's managers were in the process of employing a market research firm to conduct reader surveys. Mass Observation's 1961 report on Design magazine's readership unearthed a litany of grumbles about the magazine's form and content.104
It turned out that the consumer of Design was harder to shape than its managers thought. Readers had specific views about Design and how it could be improved. Seventeen percent thought it should contain more about readers' own jobs. It was deemed by some "too arty and academic"; or "not sufficiently up-to-date"; while others objected to the criteria it used to judge good design. Others thought the magazine "should have more expert reports"; that it was "badly written"; "needs more outside writers"; and "should be aimed more at the man in the street."105 "My main criticism," said a design consultant, homing in on a growing public perception of the CoID as elitist and out of step with the times, "is that it is too snooty about everything. There is no link made—or no effort at a link—between the designer and the ordinary people. It fails because it relies too much on snob value. I feel that a 'Design Establishment' is emerging which is far too tight."106
One of the subscribers interviewed by Mass Observation, a production planning manager in an engineering firm, objected to the "parochial tendencies" of the magazine, and said he wanted "more variety among contributors."107 In explaining his request he unconsciously quoted Hamilton's "Persuading Image" article, saying: "[Design] should deal with the social side of design. You can now design the customer to the product as well as the product to the customer."108 It appeared that however heterodox Hamilton's argument might have been in the context of CoID's anti-commercial, socially and morally driven view of design, among Design's actual readership its message had hit home.109
Hamilton did not consider himself a design critic. "I've always thought of myself as a design hobbyist," he later said.110 And yet he had clear views about his role as an educator, which do seem to have translated into his critical writing: "It is for us as teachers to promote in the youth we teach a healthy suspicion of all dogma, whether it is politically oriented or aimed at fixing the pattern of our culture," he said in a 1960 lecture to the National Union of Teachers.111 He believed that in order to achieve "freedom of choice … the youth of today" should be made fully aware of the techniques of mass media, "whose products they already know and appreciate."112 Hamilton's perceptive analysis of the techniques of image making, the social and economic implications of mass-produced goods, and the inevitability of expendability helped to challenge the main current of design discourse in postwar Britain with a level of authority seldom found among the writings of establishment-sanctioned design commentators of the period.
1. Deborah Allen, personal interview, July 6, 2007.
2. Deborah Allen, "Cars '55," Industrial Design, February 1955, 82.
3. Richard Hamilton, "The Urbane Image," Living Arts (Institute of Contemporary Arts), no. 2 (1963).
4. Richard Hamilton, personal interview, February 23, 2007.
5. Richard Hamilton, Richard Hamilton Paintings Etc. 1956–1964 (London: Hanover Gallery, 1964).
6. Ibid.
7. Reyner Banham, "Who Is This Pop?," Motif, Winter 1962/63, 3.
8. Ibid.
9. Reyner Banham, "A Throw-away Esthetic," Industrial Design, March 1960, 65 (originally published as "Industrial Design and Popular Art" in Civiltà delle Macchine, November 1955).
10. Reyner Banham, preface to Design by Choice, ed. Penny Sparke (New York: Rizzoli, 1981), 7.
11. Press release, June 22, 1951, Museum of Modern Art and Merchandise Mart, 1, MoMA online press archive, <https://www.moma.org/momaorg/shared/pdfs/docs/press_archives/1522/releases/MOMA_1951_0040.pdf> (accessed October 9, 2013).
12. "Good Design for 1949," Interiors 108 (December 1948), 114. Press release, June 22, 1951, Museum of Modern Art and Merchandise Mart, 1.
13. The tenth of "Twelve Precepts of Modern Design," in Edgar Kaufmann Jr., What Is Modern Design? (New York: Museum of Modern Art, 1950), 7.
14. Press release, June 22, 1951, Museum of Modern Art and Merchandise Mart.
15. Paul Reilly, "Presenting the Case for Furnishing: Vintage or Contemporary?," manuscript, 1958, 1–2, Paul Reilly, design administrator, papers, c.1920–c.1989, Archive of Art and Design, London.
16. Richard Hamilton, review of Arthur Drexler's Introduction to Twentieth Century Design, in Design, December 1959. Reyner Banham, "H.M. Fashion House," New Statesman, January 27, 1961, 151.
17. Daniel Horowitz, Consuming Pleasures: Intellectuals and Popular Culture in the Postwar World (Philadelphia: University of Pennsylvania Press, 2012).
18. Ibid., 2.
19. Ibid., 1.
20. Ibid., 2.
21. John E. Blake, "Consumers in Danger," Design 134 (February 1960), 25.
22. Ibid.
23. Ibid.
24. Michael Farr, Design in British Industry: A Mid-Century Survey (Cambridge: Cambridge University Press, 1955), xxxvi.
25. Patrick Maguire and Jonathan Woodham, Design and Cultural Politics in Postwar Britain: The 'Britain Can Make It' Exhibition of 1946 (London: Leicester University Press, 1997).
26. Nikolaus Pevsner, "The Visual Arts," transcript of BBC Radio Third Programme, October 10, 1946, 4, BBC talks, 1946–1977, Series II, Box 52, Nikolaus Pevsner papers, 1919–1979, Getty Research Institute, Los Angeles.
27. John Ruskin, "Modern Manufacture and Design," Lecture to Bradford School of Design, 1859, in The Works of John Ruskin, vol. 10 (London: George Allen, 1878), 103.
28. William Morris, "Art and the Beauty of the Earth," lecture delivered at Burslem Town Hall, October 13, 1881, in William Morris, Art and the Beauty of the Earth (London: Longmans, 1898), 29.
29. Ibid. 23.
30. Trend, Spring 1936, 41–42.
31. Gillian Naylor, "Design Magazine, a Conversation, 22 September 2003," in Design and the Modern Magazine, ed. Jeremy Aynsley and Kate Forde (Manchester: Manchester University Press, 2007), 165.
32. Anthony Bertram, The Enemies of Design (Design and Industries Association, 1946), 3.
33. Obituary, Michael Farr, Design, October 1993, 6.
34. Interview with Michael Farr, 1991, Archive of Art & Design, London, AAD 7-1989, 42.
35. Farr, Design in British Industry, xxxvi.
36. D. M. Forrest, Commissioner, The Tea Bureau, "One More Word about Teapots," Design 82 (October 1955), 50.
37. "The Aims and Organization of the Council of Industrial Design," paper prepared for discussion at Regional Controllers' Office, on September 8, 1948, Paul Reilly, design administrator, papers, c.1920–c.1989, Archive of Art and Design, London.
38. Naylor, "Design Magazine, a Conversation," 165.
39. Council of Industrial Design Memorandum on A Design Centre for British Industry, ii, Paul Reilly, design administrator, papers, c.1920–c.1989, Archive of Art and Design, London.
40. Paul Burall, "The Official Critic: Irrelevant or Critical?," Design Issues 13, no. 2 (Summer 1997), 37.
41. "Interim Notes on the Editorial Contents of Design," prepared by Mass Observation Ltd., December 13, 1954, Design Council Archive, University of Brighton Design Archives, Brighton.
42. Ibid.
43. "A Report on Design Readership," prepared by Mass Observation Ltd., August 1961, Design Council Archive, University of Brighton Design Archives, Brighton.
44. John Blake, "The Case for Criticism," comment, Design 137 (May 1960), 43.
45. Ibid.
46. John Blake, "Towards a New Editorial Strategy," memo, October 1976, Design Council Archive, University of Brighton Design Archives, Brighton.
47. Farr, Design in British Industry, 208.
48. Stephen Spender, "Thoughts on Design in Everyday Life," design oration of the Society of Industrial Artists, 1958, published in SIA Journal, January 1959.
49. Ibid.
50. Richard Hamilton, personal interview, February 23, 2007.
51. David Robbins, ed., The Independent Group: Postwar Britain and the Aesthetics of Plenty (Cambridge, MA: MIT Press, 1990), 28.
52. Banham, "A Throw-away Esthetic," 64.
53. Lawrence Alloway, "The Long Front of Culture," Cambridge Opinion, no. 17 (1959), 25–26.
54. Richard Hamilton, personal interview, February 23, 2007.
55. Ibid.
56. The theme of the 1959 International Design Conference at Aspen was "Communication: The Image Speaks." The proceedings were published in the August 1959 issue of Industrial Design, and could, therefore, have informed Hamilton's lecture/article.
57. Richard Hamilton, "Persuading Image," Design 134 (February 1960), 32.
58. Ibid., 29.
59. Peter Drucker, "The Promise of the Next 20 Years," Harper's Bazaar, April 1955.
60. Peter Drucker quoted in Vance Packard, The Waste Makers (Brooklyn: Ig publishing, 2011), 66.
61. George Nelson, "Obsolescence," Industrial Design, December 1956, 88.
62. Ibid., 81.
63. Richard Hamilton, in "Persuading Image: A Symposium," Design 138 (June 1960), 57.
64. "Pop Art is: Popular (designed for a mass audience), transient (short term solution), expendable (easily forgotten), low cost, mass produced, young (aimed at youth), witty, sexy, gimmicky, glamorous, big business." Richard Hamilton, "Pop Art Is," unpublished, 1957, in Richard Hamilton, Collected Words (London: Thames & Hudson, 1983), 24.
65. Hamilton, in "Persuading Image: A Symposium," 57.
66. Richard Hamilton, "Artificial Obsolescence," in Collected Words, 155. Originally published in Product Design Engineering, January 1963.
67. Hamilton, "Persuading Image" (February 1960), 28–32.
68. Ibid.
69. Richard Hoggart, The Uses of Literacy (London: Penguin, 1992; first published London: Chatto & Windus, 1957).
70. "A Report on Design Readership," 13.
71. Hoggart, The Uses of Literacy, 215.
72. Richard Hamilton, "Popular Culture and Personal Responsibility," lecture at National Union of Teachers Conference, October 26–28, 1960, in Hamilton, Collected Words, 155.
73. Vance Packard, The Hidden Persuaders (London: Pelican, 1962), 16.
74. Hamilton, "Popular Culture and Personal Responsibility," 155.
75. Hamilton, "The Urbane Image," 53.
76. "Richard Hamilton in Conversation with Michael Craig-Martin, 1990," in Richard Hamilton, ed. Hal Foster with Alex Bacon (Cambridge, MA: MIT Press, 2010), 6.
77. John Blake, "Communication and Persuasion," Design 140 (August 1960), 34.
78. John Blake, "American Design in London," Design 200 (August 1965), 53.
79. Ibid.
80. Raymond Williams, Britain in the Sixties: Communications (London: Penguin, 1964), 75.
81. Daniel Boorstin, The Image: A Guide to Pseudo Events in America (New York: Vintage Books, 2012), 5.
82. Richard Hamilton, personal interview, February 23, 2007.
83. Ken Garland, quoted in Michael Farr, obituary, Design, October 1993, 6.
84. Ken Garland, personal interview, February 14, 2007.
85. Memos and Minutes of Design magazine meetings, 1954–1978, Design Council Archive, University of Brighton Design Archives, Brighton.
86. Memo from Mr. Tree to Mr. Hughes-Stanton, June 26, 1969, Memos and Minutes of Design magazine meetings, 1954–1978, Design Council Archive, University of Brighton Design Archives, Brighton.
87. Ken Garland, quoted in Michael Farr, obituary, Design, October 1993, 6.
88. Ken Garland, personal interview, February 14, 2007.
89. Interview with Michael Farr, August 15, 1991, Archive of Art & Design, AAD 7-1989. The collection of Architectural Review magazines housed in the V&A's National Art Library was donated by Michael Farr.
90. Architectural Review initiated a "Criticism" section in June 1951.
91. Memos and minutes of Design magazine meetings, 1954–1978, Design Council Archive, University of Brighton Design Archives, Brighton.
92. Ken Garland, personal interview, February 14, 2007. "Design Magazine, a Conversation," in Aynsley and Forde, Design and the Modern Magazine, 171.
93. Hamilton, "Persuading Image" (February 1960), 29.
94. Blake, "Consumers in Danger," 25.
95. John Blake, preface to "Persuading Image," Design 134 (February 1960), 28.
96. "Persuading Image: A Symposium," 54–57.
97. Ibid., 54.
98. Ibid., 55.
99. Ibid.
100. Ibid., 56.
101. Ibid., 55.
102. Ibid., 57.
103. John Hewitt, "Good Design in the Marketplace: The Rise of Habitat Man," Oxford Art Journal 10, no. 2 (1987), 30.
104. "A Report on Design Readership."
105. Ibid., 13.
106. Ibid., 14.
107. Ibid., 15.
108. Ibid.
109. In his article Hamilton made several references to the February 1959 issue of Industrial Design magazine. It was checked out of the Royal College of Art library repeatedly during March 1960, suggesting that his article created a new readership for the American magazine.
110. Richard Hamilton, personal interview, February 23, 2007.
111. Hamilton, "Popular Culture and Personal Responsibility," 154.
112. Ibid.
113. Reyner Banham, "Design by Choice," Architectural Review, July 1961, 44.
114. Ibid.