The Wool Ceiling
A Complex Case of Women and Weaving
Originally published in MacGuffin Magazine Nº 9 The Rug, 2020
Essay
2020
Anni Albers
Bauhaus
Design education
Design history
Kitty van der Mijll Dekker
MacGuffin magazine
Rugs
Textiles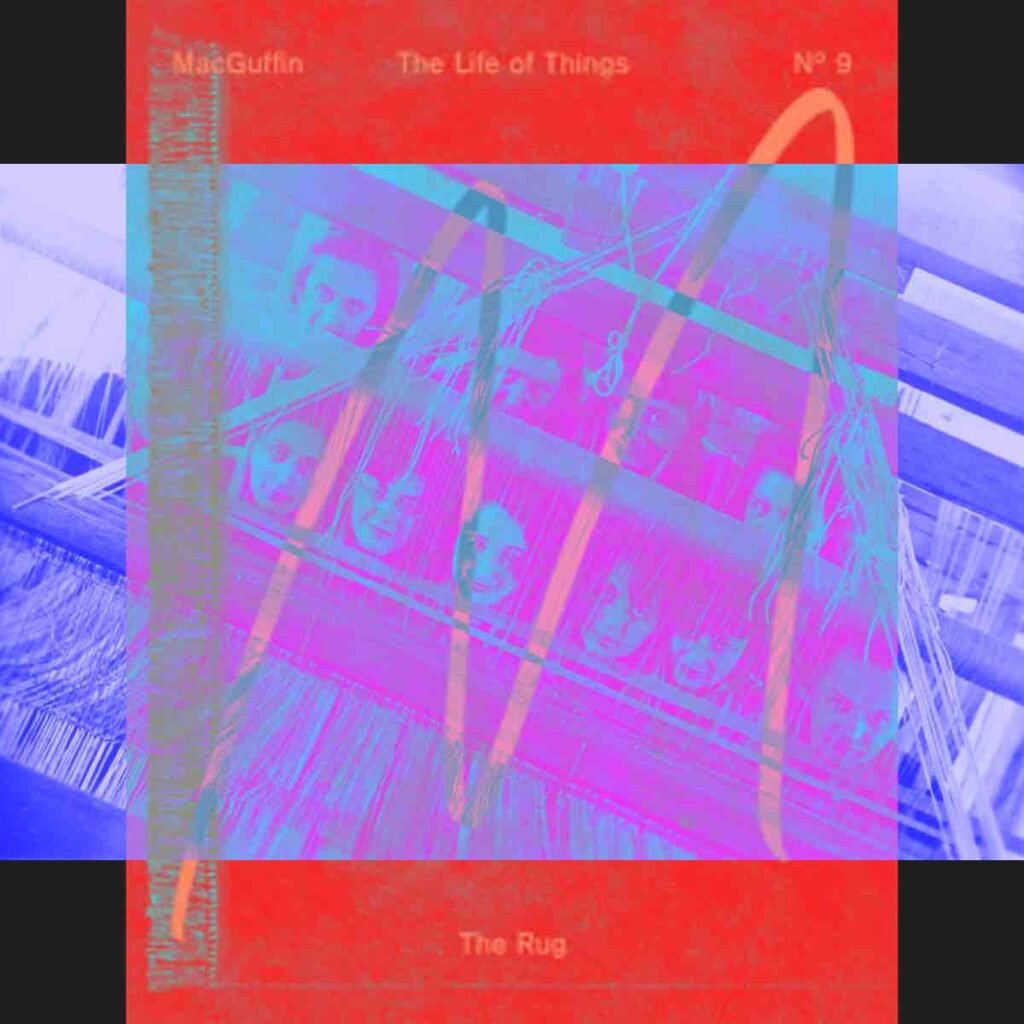 MacGuffin magazine is a biannual publication meticulously curated by Kirsten Algera and Ernst van der Hoeven, and beautifully realized by Sandra Kassenaar. Each issue dwells on a single often familiar but disregarded object, like a window or the desk, and explores it with sustained curiosity, rigour and a sense of humour.  This issue was devoted to the rug, and when Kirsten and Ernst asked me to contemplate the rug as a designed object historically entangled with sexism, I decided to focus on the work of Kitty van der Mijll Dekker. Some of her archival materials, including documents from her Bauhaus days, and correspondence relating to her weaving business in Nunspeet, are stored in the Netherlands Institute for Art History archives, where I spent a very happy day poring over her sketches, weaving notations, and photographs and, with the help of the Google Translate app on my phone, reading the letters that passed back and forth between her and the Royal household, museum directors and industrialists and that demonstrated that not only was she an intuitive craftsperson, but also a technically innovative weaver and formidable businesswoman.
—-
"Where there is wool
You'll find a weaving wench
Be it to fill the idle hours at her bench"
—Oskar Schlemmer.
I see a gridded landscape of mixed-use enclosures and fields, some ploughed in neat furrows, some filled with wilder wind-stroked grasses, others shorn to the stubble. My eyes rove across this varied surface, grasping at its parts and re-piecing them into a continuum. The textile artist Anni Albers said that the reconciliation of the forms that make up a modern weaver's repertoire—horizontals, verticals, diagonals, and staggered diagonals—into "a visually comprehensible, simplified organization" is the very "essence of designing." Here they are used to give nuance of tone and complexity of structure to a design that uses only two shades of undyed whiteish natural yarn.
Were they allowed to, my toes would plumb its plush pile, burrowing here beneath a knobby outgrowth of wool, gliding there along a diagonal pathway of backing, the inner arch of my foot receiving the imprint of a crop of tufts, a resistance of knots. On the wall it speaks to my eyes like a painting, on the floor potentially it would soothe my feet like a designed product; but, really, like all rugs, it's awkward, aloof, out of place on either plane. 

A rug inhabits an indeterminate space of its own, adrift between art and architecture…
A rug inhabits an indeterminate space of its own, adrift between art and architecture, sight and touch, 2D and 3D, contemplation and use—and even within this last category, uneasily distant from the workaday absorbent mat and the room-unifying, noise-muffling carpet. 
Perhaps its true place, in the imagination at least, is on the loom—in the continual process of emerging, unfurling, becoming. Arriving layer by layer from the future of its projected self, as meticulously notated (although always incompletely) on graph paper, back towards the present of its fully dimensional form. In the 2018-2019 "Anni Albers" exhibition at the Tate Modern in London, it was her loom that was displayed front and centre, the first thing that visitors saw upon entering the gallery. The noun "rug," therefore, is better understood through the verb "weaving"—as a rectangular measure not of area so much as of the labour-time of weaving. 
Relief Rug, made by Kitty van der Mijll Dekker in 1934, is catalogued at Amsterdam's Stedelijk Museum in its Design collection, even though it is displayed hanging vertically on the wall, as if in illustration of the typological ambivalence that suffuses rugs. The physicality and duration of its making process are palpable. Not in the derisive sense of weaving "filling" time meant by sculptor and Bauhaus teacher Oskar Schlemer when he quipped, "Where there is wool/ You'll find a weaving wench/ Be it to fill the idle hours at her bench;" but, rather, in the sense of time filling the weaving. The weft or "filling" as it is also known, entangling the warp in its metronomic shuttling from left to right and back again. 
As craft historian T'ai Smith observes, "the technical practice of weaving is necessarily sequential. With the process of adding weft to weft, over and under the warp, bit by bit, the compositional field is literally built. At once analogous to the architect who conceives a building and the labourer who constructs it, the weaver develops the design in tandem with the fabrication of the surface." In Relief Rug the entwined decisions of the hand and mind of its maker can be retraced in its strata, its alternation of grain and gloss, smoothness and roughness, the relief quality achieved by combining heavy and fine material. 
The "pendulum" of the weaver's work swings from art to industrial science, as Albers put it. Understanding of the inner structure of a fibre and how it responds to weaving technique to create variations in surface activity (matière) necessitates both an intellectual and a haptic understanding of engineering and aesthetics, technique and composition. 
The Bauhaus, a radical art school inaugurated in Weimar in 1918, with the aim of unifying all visual arts and crafts in the service of architecture, sought to provide just such a training. And indeed, by the time the school closed in 1933, its weaving workshop was renowned the world over not only for its experimental and innovative approaches to modern textile design but also for its emphasis on industrial production and commercial viability. And yet this vibrant, successful aspect of Bauhaus design, this physically labour-intensive, mathematical, computational, constructive, ever-fascinating medium was at the time deemed inferior to both architecture and fine art, and somehow suited to women more than men, intellectually, aesthetically and physically.
The rug, and specifically Van der Mijll Dekker's Relief Rug, therefore, presents a complex case for a gendered history of design.
The rug, and specifically Van der Mijll Dekker's Relief Rug, therefore, presents a complex case for a gendered history of design. It was an infuriating glass ceiling for a woman who aspired to be an architect but was redirected to interior design and then to weaving. But it was also her means of transport to inclusion in museum collections, medals at World Fairs, and top jobs at industrial weaving mills and, since her death in 2004, a street being named in her honour (in the village of Nunspeet where she ran a renowned hand-weaving mill for several decades).
The launch of the Bauhaus coincided with the beginning of the Weimar Republic, in which women gained new rights, including being allowed to vote for the first time and to attend university. Many applied to the Bauhaus, encouraged by its founding manifesto written by Walter Gropius which conjured a "new structure of the future, which will one day rise toward heaven" to be built collaboratively by expert artists and craftspeople. More specifically, the prospectus said it would welcome "any person of good repute, without regard to age or sex." But when women threatened to outnumber the men and, thereby, dilute the status of, and feed local controversy around, the school, Gropius introduced a new policy that in effect segregated them into a women-only track. In a 1926 letter to a female candidate, he wrote: "In our experience it is not advisable for women to work in the heavy industrial workshops, such as carpentry etc. It is precisely for this reason that the Bauhaus has been evolving a regular women's department which concentrates on textile production. […]It is our policy to discourage women from studying architecture." The full array of Bauhaus workshops was not available to women, therefore; instead they would usually proceed directly from their version of the Vorkurs, the women's course, to the weaving workshop and soon that passage became inevitable and the terms "weaving" and "women" synonymous.
At the Bauhaus, the terms "weaving" and "women" became synonymous.

Unlike other workshops at the Bauhaus, an apprenticeship in weaving did not lead to a professional qualification. The implicit, and sometimes shockingly explicit, message was that design materials and processes were inherently gendered. Bookbinding master craftsman Otto Dorfner noted in a 1922 masters' council meeting that the textile workshop was the best place for women, since its environment "suited their physique." "Women are out of place in the construction workshops," he averred. "Let the women make carpets…" The yielding pliability of yarn was seen as easier to handle than the purportedly 'masculine' materials of metal or wood. The physical process of interlacing threads and the final product, destined for interior furnishing, were each, and in sum, considered to be "feminine," "domestic," "women's work." Furthermore, as T'ai Smith has argued, weaving was "feminized," by being "kept untheorized, or without discursive parameters."
Attempting to divine the depth of Relief Rug makes it equally hard to fathom how Gropius and his colleagues believed that women couldn't think or design in three dimensions—that weaving was not utterly and intrinsically three dimensional. Especially when, as part of an experimental approach fostered by Gunta Stölzl (who became master of the weaving workshop in 1926) and her students, they started integrating bits of cellophane, copper, wire and fibreglass, and working in relief. 
In 1929 the 21-year-old Catharina Louisa (Kitty) van der Mijll Dekker enrolled at the Bauhaus, after having first studied at the Royal Academy of Art in the Hague and at Hornsey School of Art in London. She wanted to become an architect (and was even admitted with a recommendation from the architect Jan Buys), but she, too, was assigned to the weaving workshop. Luckily, this was a propitious moment to be studying weaving at the Bauhaus. Stölzl and Albers were at its helm, and the move to the new building in Dessau had improved the conditions and facilities in the weaving workshop, which now had loom systems, including the Kontermarsch, shaft machine, Jacquard loom, carpet-knotting frame, as well as their own dyeing facilities. 
The Bauhaus weavers had hit their stride, happily negotiating industry and handicraft, mathematical precision and intuitive gesture, and attracting museum and industrial commissions alike. In 1926 Stölzl famously dismissed the earlier Weimar-period textiles as mere "pictures made of wool." She was more interested in industrial textiles which pushed production technologies and functioned architecturally to soundproof space or to reflect light. These were some of the most commercially successful products of the entire school. In 1931, Stölzl wrote: "The vitality of the material forces people working with textiles to try out new things daily, to readjust time and again, to live with their subject, to intensify it, to climb from experience to experience in order to do justice to the needs of our time…. Experience shows that we are advancing along useful paths: The cultural influence of our work on the textile industry and on other workshops is clearly in evidence today. Those who have been trained by us are now occupying top positions in mechanical weaving mills and workshops and also in schools."
As if to perfectly illustrate Stölzl's boast, Van der Mijll Dekker's career trajectory embraced exactly these components. Shortly after getting her diploma in 1932, Van der Mijll Dekker moved to the small Dutch town of Nunspeet with two Bauhaus classmates, Herman Fischer and Greten Neter-Kähler, and set up the weaving workshop, which they named Handweverij De Wipstrik, with reference to the sound made by the shuttle darting back and forth on the loom. In addition to running her own mill, Van der Mijll Dekker worked as a designer of household and interior textiles at the linen weaving factory Van Dissel & Zn in Eindhoven and she also began teaching weaving at the Institute for Applied Arts Education in Amsterdam, which became the Gerrit Rietveld Academy, and where she would continue to teach for another 35 years, ushering in a more technological and experimental approach to weaving that had a great impact on students like Herman Scholten, Margot Rolf and Maria Blaisse. She became a member of the Dutch Association for Art in Industry (VANK), which acted as an agent for designers at the time and which enabled her to take part in exhibitions such as the Milan Triennale (1933) and the World's Fair in Brussels (1935). Her Relief Rug was exhibited in the Dutch pavilion in Brussels and was awarded the gold medal that year. It was purchased by VANK, where it came to the attention of William Sandberg, who was then a member of the committee that advised the Stedelijk Museum on the acquisition of objects for its newly established Applied Arts department and who wrote to congratulate her. 
In a 1988 interview, Van der Mijll Dekker recalled that when she was a young aspiring architect, her cousin, Jan Buys, had put her off. "Don't do it, Kitty," he said. "You won't get your work done, because no one will ever do what you say. They won't listen to a woman on the roof." When the interviewer asked her if she regretted having taken his advice, she quietly demurred. "No," she replied. "I don't have that feeling myself…I had a lot of fun weaving. In fact I still do."